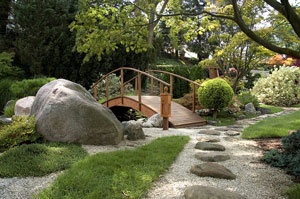 With spring bringing the promise of beginnings, it's the ideal time to get your garden in shape
Story: Catherine Stewart, FAILDM FAIH
Now that the fresh, new leaves are unfurling on the trees and the spicy scent of native flowers is in the air, use the lengthening days to get out into the garden. Spring is like a New Year for gardens — there's a real sense of beginning that feels wonderful to be a part of. Make yourself a new spring resolution to give your garden some loving care, brush away the winter cobwebs and prepare it for the hot days of summer.
1. Spring starters
Don't be afraid of doing something at the wrong time. The late, great Valerie Swane, gardener extraordinaire, would say when asked by worried gardeners when they should prune or plant, that "the best time to do something in the garden is when you think of it". When your time is limited, don't put off the urge to garden. Pruning not quite at the right time might lose you a few flowers but the upside is that you'll probably end up with a much better looking shrub. If you wake up one day and feel it's a good day to plant, just do it, otherwise it may never happen!
2. Total tidy
Now's the time to give your garden a good clean up and get rid of all that stuff that's accumulated outside. Bits and pieces of sporting equipment, old broken tools, mucky shoes, twisted hoses and discarded plant pots will detract from any good garden work.
3. Soil support
Good garden soil is the basis of any garden. Cared-for soil gives plants nutrients, holds more moisture, encourages strong, supportive root growth, allows essential microflora to flourish and drains well. Concentrate on 'feeding' your soil, rather than your plants, and everything else will follow. Any organic matter you give it is worthwhile, from your own compost to bagged manures (pelletised sheep manure hardly smells at all), vermicompost (worm castings) or bulk supply soil improvers. Using seaweed extracts encourages microflora growth, which improves soil structure and regulates soil fungi and bacteria.
Decompact any soil you've been walking over by pushing in a garden fork and then levering it back, or you can hire a soil coring machine. Make sure water can penetrate by breaking down soil surface tension with a soil wetting agent (hose on or granular spread). Protect your soil from surface drying by 75mm of mulch. Don't worry about which is best, as any mulch with small but chunky pieces (not less than about 1.5cm cubes) will do the job.
4. Shape your shrubs
If you've neglected to keep your shrubs and hedges in shape, now's a good time for a formative prune. Most popular hedging plants such as lilly pillies, murraya and buxus can be cut back hard to create a better framework. Keep some green on them so they'll recover faster and get ready to pinch off the leading pair of leaves after 100mm of new growth. This will encourage branching and a bushier shrub.
5. Insect inspection
Insects wake up in spring, too, so keep a watchful eye for caterpillars, sawfly larvae, leaf skeletonisers and sap-sucking aphids and scales. Strong, healthy plants will resist pests and diseases but mass plantings can be badly affected. If you choose to spray, buy the products you need and a number of spray bottles so you can have pre-mixed solutions ready. (Make sure you label them clearly.) Always read and follow the directions carefully. For information on organic pest control, visit: greenharvest.com.au/pestcontrol
6. Compost capital
Build or buy a composting bin to recycle garden nutrients so you don't rely on importing material. Run over prunings with the lawnmower, chuck in your vegetable scraps, shredded paper, add plenty of water and turn weekly.
7. Vegie vitality
You don't need much space to tuck a vegie plant or two around the garden to enjoy during the summer months. Baby salad greens such as rocket, beetroot, spinach and lettuce varieties are quick and easy to grow from seed — just pick off the outside leaves as you need them. Plant spring onion, broccoli, carrot, zucchini and capsicum after the last frost.
8. Container colour
Hang the expense and choose the most beautiful container you can find in your local nursery to put on your deck, patio or balcony, especially where you can see it from inside. Fill with premium-grade potting mix and plant out with herbs such as curly-leaf parsley, basil, chives and thyme with a few pretty marigolds, sweet alice, dwarf chillies or dwarf snapdragons for colour.
9. Top trees
Planting a tree in early spring is one of the best things you can do for your garden and your planet. In a few years, it will provide better quality summer shade than umbrellas and awnings, as it naturally vents hot air. Trees for small backyards include the beautiful orchid tree Bauhinia variegata and Tibouchina mutabilis and natives such as tuckeroo (Cupaniopsis anarcardioides) and ivory curl flower (Buckinghamia celsissima) for warm areas. In cooler zones, try crabapple (Malus) or pear (Pyrus) cultivars, native leatherwood (Eucryphia) and native laurel (Anopterus).
10. Perennial pick-me-up
Once flowering perennials get into spring top gear, they can put on huge amounts of growth in just one week. Prevent them breaking or falling over by making sure they have support. Bamboo stakes tied into a tee-pee shape work well or invest in versatile curved perennial cradles, made from powder-coated metal.
1. Spring is the time to get your garden in order. Tidy areas of lawn, sweep the paving, clear away clutter and clean outdoor furniture.
2. If you have neglected to keep your shrubs, topiaries, trees and hedges trimmed and in shape, now is a good time for a formative prune.
3. To ensure a flourishing spring garden, feed your soil with organic matter, such as homemade compost. Photo courtesy of Tesselaar.
4. Add instant spring colour with flowering plants in an interesting or colour-co-ordinated container. Photo courtersy of Ramm Botanicals.
5. Before spring planting, decompact the soil, mix in compost and a wetting agent. Next label plants. Photo courtesy of Heaven In Earth.