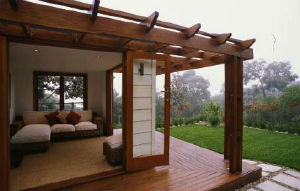 A light and airy summerhouse provides welcomerespite in this sunny coastal garden
Creating a place for entertaining was of utmost importance to the owners of this steeply sloping coastal block. With this is mind, garden designer Greg Thomsen of First Nature set about renovating the old weatherboard shed that sat on the lower level of the property.
Double doors framed in recycled Western Red cedar were installed on three sides, opening the structure up to the cooling ocean breezes and offering clear views of the soft lawn and flourishing garden beds. Skirting the summerhouse is a deck built from Australian hardwood and an open pergola built from recycled hardwood.
A path of beige granite steppers, set in a bed of Nepean river pebbles, wraps around the base of the summerhouse, reinforcing the coastal aesthetic.
One of the standout features of this landscaping project, which involved a total revamp of all garden levels, is the set of stairs that lead from the residence down to the summerhouse. The stairs were built with a narrow water rill running down the middle and each landing has a reservoir covered with Arctic-white pebbles and a hidden water spout that sends water trickling down to the next step.
When the sun sets, an extensive landscape lighting scheme creates a relaxed ambience. A mix of copper, brass and stainless-steel fittings was used throughout the garden, including on the stairs, which have in-ground step lighting, and the reservoirs, which feature underwater illumination.
As the garden is adjacent to a beach and bordered by an escarpment on the western side, the new planting had to seamlessly integrate with the surrounding landscape. In line with this, Greg employed a planting scheme comprised mostly of coast-hardy natives, including Gymea lily, grass trees, dwarf coast rosemary, kangaroo paws, coral pea and creeping boobialla, some of which can be found in the surrounding landscape.
The comfortable summerhouse, which has just a hint of Japanese styling about it, was furnished with a comfy sofa/daybed and is now used for a multitude of activities, from entertaining friends to doing yoga. It has become both a focal point of the garden and a place of sanctuary for the owners.
FIRST NATURE
PO Box 68
Austinmer NSW 2515
Mobile: 0410 423 646
Email: greg@firstnature.com.au
Website: www.firstnature.com.au
Photography by Diane Norris