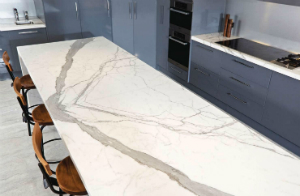 For this refurbished residence in Mt Eliza, Victoria, the clients chose the classic and timeless look of Statuario, an Italian marble from Carrara in Tuscany with clean, crisp white and striking grey veining. After waiting several months for a shipment to arrive, the clients came to Amalgamated Marble's Tullamarine warehouse to view a similar material in Calacatta, but fell in love with the Statuario instead. At Amalgamated Marble's Richmond showroom, the clients discussed the impact of the diagonal veining and initial concerns about joint placement.
Once it was explained that, with this Statuario in particular, a join can be a feature instead of a problem in that it can be book-matched (where the mirror image of the stone is replicated at the join), then the benefits of this process could be understood. The surfaces have a honed (matt) finish and 50mm vein-matched mitred edging, complementing the book-matched effect, which was continued across the top and down the waterfall ends of the bench. The alfresco area and study nook were also vein-matched to provide consistency throughout. The elegance and beauty of this timeless Italian marble were in large part responsible for the outstanding finish achieved in this kitchen. Natural stone merchants since 1965, the people at Amalgamated Marble pride themselves on excellent quality and great customer service. Along with taking the utmost care with each project, they stock all types of natural stone, including marble, granite, onyx, travertine and slate.
Amalgamated Marble also specialises in exotic stone, including its Semiprecious Collection and the Carrara marbles, which include many types of Calacatta, Statuario, Arabescato and white Carrara.