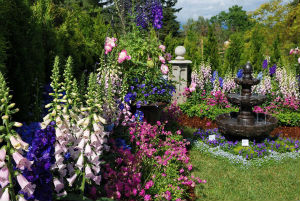 Each year, student designers from around the country are encouraged to put their skills to the test in a national design competition. Here are the winners
Story: Catherine Stewart, FAILDM
To deliver the desired outcome, an experienced landscape designer draws upon many things, including horticultural knowledge. To be truly successful, however, the designer needs to focus on three key points:
? Listening skills that help them really understand their clients needs and wishes
? Making every design specific to its site, reflecting its topography, climate, soils and streetscape
? Communicating their design solutions in plans, sections and perspectives so clients can easily imagine their new garden
The length and breadth of Australia, students at TAFEs and universities are being trained in these principles and the Australian Institute of Landscape Designers and Managers (AILDM) went looking for the best with a national competition in 2007. A brief told them about their clients — a young couple (and maybe some kids in the future) in their first home, planning their back garden for the next 10 years.
Although new to gardening, they want a garden designed on environmentally sustainable principles, with room to entertain outdoors, an interesting variety of plants and somewhere for a bit of golf practice.
The garden measures 15 metres wide by 12 metres deep, with north to the rear and the land falls about a metre from the house to the back right corner. The area near the house needs summer shade and there's a lovely bushland view out over the back boundary.
Their local council has imposed several restrictions on the landscaping, such as a limit of 25 per cent hard surface area (paving and decking) and a requirement for one third of the plants to be native, including a tree which grows to at least eight metres. Installed water tanks must store at least 4000 litres. Students could choose the climate and soils of their local area as a basis for plant selection.
FIRST PRIZE
Denise Smallwood of North Melbourne Institute of TAFE, Vic
Sweeping, sensuous curves define the main spaces of this deceptively simple garden. Separate areas are created by barrier plantings, bringing a sense of enclosure but not fragmenting the garden. Generous swathes of dense shrubs encircle the lawn, with deep garden beds giving ample room for layered planting and form and foliage contrast. Selected plants are all good performers in the chosen location of Templestowe, Victoria with an interesting mix of native and exotic plants providing seasonal variety. Hard surface areas have been kept to a minimum, reflecting the clients' desire for an environmentally friendly and sustainable garden but there is still room for a spacious deck alongside a paved area for entertaining and outdoor cooking and dining. Judicious use of just a few focal points (a grass tree in a raised bed and a sculpture set amid foliage) create both internal garden views and draw the eye to the distant views beyond. Well chosen elevation drawings, excellent graphics and beautiful colouring make these plans easy for a client to interpret and understand.
SECOND PRIZE
Dennis Cochrane of Ryde College of TAFE, Sydney, NSW
Here is a garden that really calls you outside with plenty of places to stroll, sit or enjoy some more active sport. Clever use of screening plants in varying heights divides the garden into more intimate spaces while keeping them visually connected. Taller trees frame a vista of the hills beyond over layered planting showing interesting form and texture contrasts.
Spreading over the back wall of the house and the paved entertaining area, a pergola covered with deciduous grape vine provides naturally venting summer shade but allows through winter sun. Sounds of trickling water from the natural-style pond and birdbath add an internal focal point to the view.
Environmental sustainability is a major focus of this garden with hard surface areas covering less than 20 per cent, an emphasis on using local natural materials, selection of low water use plants suited to existing soil conditions, provision of habitat for birds, animals and frogs and onsite rain water storage and retention.
HIGHLY COMMENDED
Yen Ong of North Melbourne Institute of TAFE, Vic
Gentle circles give definition to this plant-filled garden. Local stone paving and retaining walls combine with recycled timber to give a natural, informal feel, complemented by dense bands of low shrubs and grassy plants. Meandering stone paths invite you to explore right to the boundary in all directions.
HIGHLY COMMENDED
Genevieve Corish of Ryde College of TAFE, Sydney, NSW
Exquisite graphics show clearly the functionality and beauty of this environmentally friendly design. Paths radiate from an open grassed area, taking you to different parts of the garden, each with its own character. Local native trees frame the distant view and mid-storey shrubs give volume while providing essential small-bird habitat.
HIGHLY COMMENDED
Andre Kosyrev of University of Canberra, ACT
Making plans look three-dimensional is an exceptional skill. In this plan, all details are cleverly shown with see-through layering, rich colouring and shadow. Additional elevation, perspective and detail drawings clearly explain all aspects of the design. A welcoming deck draws you outside to the centre of a garden that shows you how environmentally sustainable design can be both beautiful and practical.