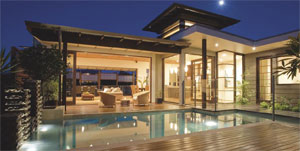 Every now and then there is a home that has the power to take your breath away and this is one of those times. Masterfully crafted, no design stone is left unturned and the result is a home that achieves what could have been the impossible yet goes beyond expectations. 
Built for the designer's own parents, the home combines contemporary Queensland living with a modern interpretation of Japanese design and, to top this off, this stunning piece of work was the winner of the Residential Building Award for 351-450 square metres and the Design Excellence Award from the Building Designers Association.
At first glance, the home is a presentation of Asian-inspired pavilions behind a front fence composed of round slat panels and stacked stones. Beyond the front gate and the interplay of water, the circulation route is well established with a tiered pond leading visitors to the front entry. The presence of water throughout the home is a complex yet unique facet that is expertly executed.
Passing the games pavilion, with its shoji screenstyle sliding doors, the water feature continues the theme along with the slatted timber panels. The main living pavilion of the house is dominated by a richly textured timber panel ceiling with alternating timber battens. This, coupled with the polished timber floor, gives the whole area a richness and warmth and makes the home welcoming. The feature wall that houses the entertainment centre of the house is comprised of textured panels and aluminium battens, a stunning modern twist on the shoji screen theme.
With both sides of the living area opening up to the outdoors, this main pavilion is the hub of the home. The kitchen, with its feature island bench, affords uninterrupted connectivity to the entertaining deck and the opposite poolside terrace.
Additionally on this level is the study, which is located to take full advantage of views over the courtyard pool, and the main bedroom is located to allow maximum privacy and separation in a stunning décor that evokes a tranquil, revitalising atmosphere.
To take full advantage of the site, this doublestorey design places the remaining bedrooms along with a cinema and family room on the lower level. With a large deck off the family room, these rooms all enjoy the rear lawn and northeasterly aspect.
By combining casual Queensland living with visions of the Orient, this residence offers its owners and their guests an exciting and stimulating address at which to live.
CHRIS CLOUT DESIGN 12 Weyba Street, Sunshine Beach Qld 4567  Tel: 07 5474 8107 Photography: Patrick Oberem