Flying the flag for first-rate Australian design, Ozkit made sure its new homestead is as patriotic as they come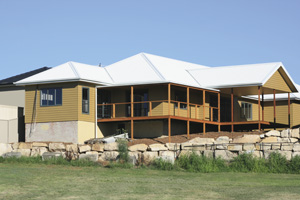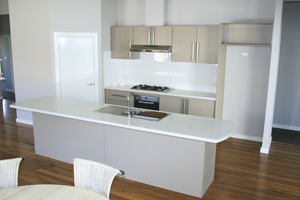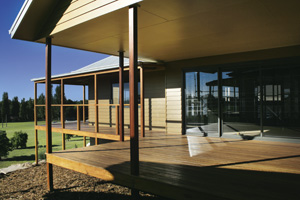 With weatherboard feature cladding, a 30-degree roof pitch for appealing architectural looks and expansive Australian hardwood decks and verandahs, Ozkit's new homestead-style house not only looks great, but is extremely hardwearing.
Every last detail of the home has been meticulously executed, including new CSR Scarborough profile weatherboard cladding, which features concealed fixtures for a "clear" finish.
Durable, earthy finishes were used both inside and out. To ensure quality construction, the Ozkit team utilised the company's own unique steel flooring with "structafloor" sheet flooring. In addition to the outside decks, Australian blackbutt T&G hardwood was also used in the kitchen and living areas, bringing the outdoors in.
Extremely well suited to acreage, this particular home was designed to take advantage of the unique shape of the land, widening to the rear to take in the expansive parkland and river views.
Boasting four to five bedrooms, this home is generously proportioned yet still allows plenty of space at the rear of the block for extensive landscaping and a sizeable deck for entertaining.
Located at the rear of the home, the covered entertaining area enjoys beautiful views and lovely summer breezes, which, thanks to clever positioning, also flow through to the main bedroom and all the kitchen and living areas. The 2.7-metre-high ceilings enhance the home's bright and breezy feel — you can't get anything more Australian than that!
Oz kit Homes has just completed a new factory office and display complex at Tea Gardens, just north of Newcastle in NSW, where the public is invited to view its completed display homes and structural displays.
OzKit Homes offers either timber or steel floor systems, which are supplied complete with engineering certificates.
A choice of steel or timber frames and trusses/rafters is available for all designs. For interior fitout with kitchens and bathrooms, Ozkit now stocks most items that are available for inspection when visiting. To simplify the owner-builder process, Ozkit will submit all plans to council (NSW only) for DA and CC approval as part of its service, so customers can concentrate on planning and getting started with their site and building works.
You can visit Ozkit Homes' display, factory and hardwood milling facilities at Tea Gardens Monday to Friday. The featured home is at North Richmond and is available for inspection by appointment. Ozkit Homes also has a Queensland display home opening in Warwick during early 2011. Please phone to arrange an inspection.
Size: 260 square metres under roof.
Price: $135,000 for kit, including attached two-car garage.
Details
OZKIT HOMES
9 Yandala Street
Tea Gardens NSW 2324
Phone: (02) 4997 9775
Fax: (02) 4997 9765
Website: www.ozkithomes.com.au
Tea Gardens display open for inspection Monday to Friday 9am to 4pm
Sydney and Queensland display homes open by appointment