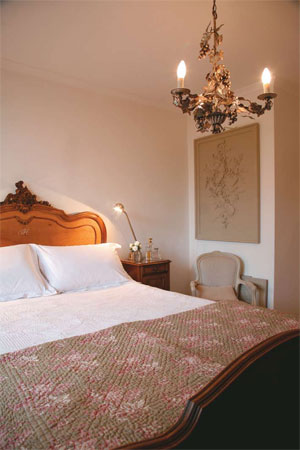 A simple solution to getting a better night's sleep is to restyle your bedroom and create a peaceful country haven that will help you relax more easily and in turn get a better night's sleep.
"May sleep envelop you as a bed sheet floating gently down, tickling your skin and removing every worry. Reminding you to consider only this moment." – Jeb Dickerson
The bedroom should be a peaceful, private sanctuary where we can go after a long, exhausting day to unwind and gently slip into the sweet world of dreams, leaving our troubles at the door. So why are sleeping problems on the rise? Stress, of course, is a major factor when it comes to sleep deprivation. Our days are getting busier and longer and we sometimes find it hard to switch off when we retire at night. 
A great way to create a calm environment is to decorate with cool, soothing tones such as off-whites, smooth creams, soft blues or light greens. If this is not your favourite mix of colours, consider mauves, pinks or even soft buttery yellows as they are all gentle peaceful choices. Warm hues such as rustic browns, sunburnt oranges or outback reds, while adding the pleasant and comforting illusion of warmth, are best used sparingly as these colours can be stimulating rather than soothing.
You might like to choose a theme for the bedroom, such as French country. This style creates a classic, soothing ambience and is stunningly chic, with clean, soft lines and vintage elegance. A decadent whitewashed French dresser with ornately carved legs or an elegant lampshade, both with their timeless appeal, can instantly bring a certain sense of harmony to any space.
Once you have decided on a theme and the colour palette you want to use, you need to start with the basics. First, have a good look at your bedroom walls. Are they a comforting neutral canvas to work with or could they do with a splash of fresh paint? The flooring is also an important design feature in encouraging or discouraging sleep. Thick, plush carpets or wooden floorboards teamed with a cosy rug are generally the best options for a bedroom rather than cold, harsh tiles or thin, threadbare carpet. If you don't want to reach for your purse to get new flooring throughout the entire room, why not indulge in a luxurious rug instead?
Now that you have looked at the basic framework of your bedroom, you need to consider the main feature — your bed. New bed linen can do wonders if you want to change the look of your room dramatically on a budget. Go for soft pastels or neutral tones such as lattes or warm chocolates. Don't go too overboard with the pattern you choose as busy designs can again put your mind into overload; perhaps choose a light floral pattern to conjure up thoughts of an English country garden on a warm summer's day.
Adding some bulk to your bedding, such as a quilted throw at the foot of the bed and a pile of soft, fluffy pillows and cushions, will also help make your bed more inviting and cosy.
Something else to consider when creating a calm haven is lighting. If the lighting is too bright it can be harsh on the eyes and throw deep shadows into nooks, which can make the room too dark. Soft lighting can easily be achieved by a lower-watt bulb (the new eco-friendly bulbs would be perfect), which can be covered with a nice frosted-glass cover.
Or you could invest in light dimmers. Dim the lights low when you are getting ready to go to sleep and your head will hardly have time to touch the pillow before your eyes droop shut.
Other decorative and functional elements such as curtains, lamps and chairs also need to be considered in your makeover. A plush set of drapes with softening sheers to suit the mood of your room can really add some yesteryear charm. If you need a dark room to sleep well, consider adding some blinds or heavier drapes that don't interfere with the overall look of the room. You could also try adding a reading chair in the corner draped with a warm blanket for a heart-warming country feel. Reading is a great way to unwind and clear your mind before going to bed.
It is also important to clear the bedroom of any useless clutter as it can be a real distraction when you are trying to unwind from your day. Remove piles of books or papers and you will instantly see the mood of the room lighten. While you are taking inventory of what should and shouldn't be included in your room, think about removing high-stimulus items such as computers and televisions. Recent research has shown that because they simulate daylight, both of these modern contrivances make it hard for our brains to slow down and prepare for sleep.
The final step is to add some personal touches. This might include some of your favourite artists' paintings or a rustic Frenchstyle clock (just be sure it doesn't tick too loudly). A vase next to the bed overflowing with soft pink roses or sprigs of fresh lavender are also lovely touches that will not only add to the country feel of the room, but also inject a delightful fragrance. Be careful not to overdo it, though, as too many wall hangings and ornaments can create a busy feel.
Of course, the look and feel of your bedroom should be a completely personal one and not taken from a catalogue. It is the one place in the home which is, after all, entirely yours (or perhaps shared with your partner) and ultimately needs to make you feel comfortable. So resist the trends and go with your heart.