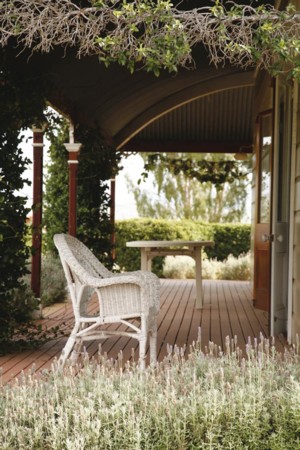 "Who among us hasn't envied a cat's ability to ignore the cares of daily life and to relax completely?" (Karen Brademeyer, author)
The word "verandah" means many things to many people, but if asked to describe it I'm guessing most people would use the word relax somewhere in their answer. The verandah is the place we head instinctively to escape the heat of a summer's day, the hustle and bustle of a house full of teenagers, our work day dramas or for a quiet meal.
Unlike the American porch, the Australian verandah is a somewhat casual concoction, generally furnished in the same relaxed mood in which it is used. We tend to steer clear of drapes and curtaining, rugs and fabrics; perhaps because of the harshness of our climate. It is sometimes even treated as a holding place for items of furniture no longer considered worthy of space indoors but too good to throw away.
We tend to concentrate on the necessities for outdoor relaxation; some comfortable chairs or a settee, a table on which to rest a drink or snack and maybe some potted plants.
Some create settings as beautiful as any indoor room with cushions, artwork, accessories such as bird houses, rugs, rockers and more. Regardless of how our verandahs are decorated, they generally hold a special place in our hearts — one that signifies a restful place to retreat from our cares.
Because we love to lounge and recline on our verandahs, it is worth spending some time when deciding on the best seating for your space. If space allows, I would definitely recommend some kind of settee or chaise to allow for a Sunday afternoon nap. The American porch swing is a romantic option and can be painted to match any colour scheme. The hammock is a cheaper alternative, but attention should be paid to safety and sturdy fixtures used to avoid your restful afternoon turning into a nightmare. An old miner's couch is the most traditional of options and the French daybed probably the most stylish of solutions. If space is limited, you may need to settle for a small table and chair with some cushions that can be brought outdoors when the weather allows. Wicker is a great outdoor choice as is wrought iron. Both withstand the extremes of climate quite well and will add character more than cheap timber or modern plastics.
Regardless of space, scented plants are a lovely addition to your verandah. Make the most of vertical spaces by positioning scented climbers such as roses, jasmine or honeysuckle at the foot of each verandah post for a romantic, intoxicating place of repose. Add colour to your verandah with pots of pretty annuals such as petunias, snap dragons or pansies.
The busy pace of modern life means that we tend to have enough chores on our plate, so in keeping our verandahs decoration low maintenance we may also be creating time for us to use it. Although they are attractive, accessories such as carvings, birdhouses and signs will do nothing for your recreation if covered with dust — after all, who wants to snatch a quiet 15 minutes only to be thinking about how much cleaning needs to be done. So creating a decorating scheme that works with your lifestyle and the amount of time you have to maintain it is vital. Avoid dust catchers and opt for items that can be washed down quickly and left to air-dry if you are time-poor. Avoid timber furniture or decking that needs recoating regularly and seek out iron or tiled options if you don't want to make a rod for your back.
To make your verandah as tranquil as possible it should look like it is an extension of the house itself, so keep your decorating in sympathy with your style of architecture — be that grand country mansion or humble Californian bungalow. Materials used when furnishing your verandah or breezeway should take their lead from the house's architectural elements. Wrought-iron bench seats or Colebrook-dale-style cafe sets work beautifully with lacework-festooned verandahs, while weatherboard homes call for cottage wicker or old church pews.
No matter how we have chosen to decorate our verandahs, if the saying "a day in the country is worth a week in the city" holds true, every moment spend on our verandah must be worth many spent indoors.
Stylist's tip
A hammock or porch swing is a lovely addition to any verandah but always put safety first. Either buy a sturdy freestanding version or have the more traditional fitted versions installed by someone who knows what they are doing. It is important that the installer considers the load rating of the fixings they are using and that they err on the side of caution.