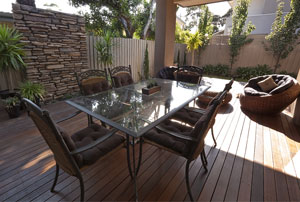 The owners of this Perth home are made in the shade thanks to their new covered deck
Story: Karen Booth
Photos: Ron Tan
If you entertain frequently and live in an area where the summer sun can be punishing, a permanent outdoor living/shade structure can be the best solution. For one Perth couple, that solution took the form of a spacious new covered deck.
The catalyst for their decision was their daughter's impending 21st birthday celebrations but the couple had long wanted somewhere they could cook, dine and entertain alfresco and be protected from the damaging rays of the sun.
Built as an extension to the house, the deck has a timber-lined ceiling and a modern gable roof. Orientated to overlook the garden, the covered deck forges a close connection with its natural surrounds so you still feel like you're enjoying the great outdoors as you enjoy a casual lunch, cooled by the overhead fan.
Furnished simply but well, the deck has room for everything the couple needs, including a barbecue, a large dining setting and space for extra seating when entertaining. For privacy there is a solid side wall.
Renovation projects like this are growing in popularity as the trend towards outdoor living and entertaining continues to escalate. While a well-conceived project will increase a property's value it is the sun protection and lifestyle benefits that attract most, says Nick Jolley of Patio Living, the company responsible for the design and construction of the deck.
"People are building relaxing oases in their own homes to enhance living space, connect with their natural surrounds and make the most of their precious down time. Boosting their property's value is a welcome bonus," says Nick.