A delightful selection of famous Art Nouveau sculptural works that is still as beautiful today as when it was created more than a century ago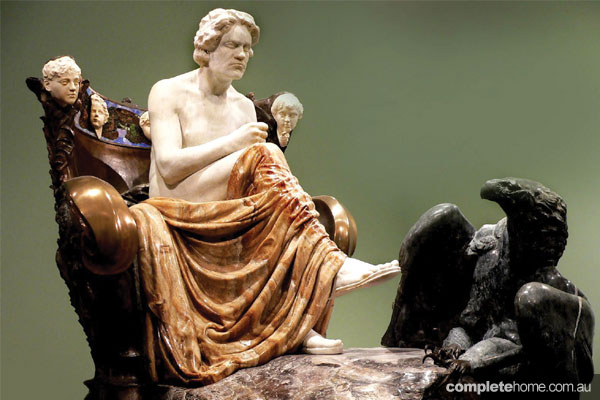 Art Nouveau was a short transitional style that lasted from 1890 to 1910, but its significance can't be emphasised enough. It was a breath of fresh air, a new direction that showed the way for the upcoming new movements: Bauhaus, Art Deco and Modernism. It is considered a "total" art style. For the first time, it embraced architecture, graphic art, interior design and most of the decorative arts, including jewellery, furniture, textiles, household silver and other utensils, lighting and all the fine arts.
The two names Art Nouveau or Jugendstil came from, respectively, Siegfried Bing's gallery Maison de l'Art Nouveau in Paris and the magazine Jugend in Munich, both of which promoted and popularised the style. In Austria, Art Nouveau was practised by artists of the Vienna Secession and it is, therefore, known as the Sezessionstil ("Secession" style). In the United Kingdom, it is associated with the activities of Charles Rennie Mackintosh in Glasgow and is often known as the "Glasgow" style. Art Nouveau embraced the technological advancements of the late 19th century and the new materials that were being developed.
The end of the 19th century provided a fertile ground for talented artists to create artworks in various genres. For example, Louis Comfort Tiffany created "sculpturesk" vases, stained glass windows and lamps, glass mosaics, ceramics, jewellery and metalwork. And Rene Lalique designed marvellous jewellery such as the famous Coiled Snake pendant. Sculptors used various materials to better express themselves and to highlight humanity's connection to nature. A stunning example is Max Klinger's Beethoven, a 310cm-tall statue, which he worked on for more than 15 years and completed for the Beethoven Exposition in Vienna in 1902.
Louis-Ernest Barrias, a French sculptor who attended Ecole des Beaux-Arts and later became a professor there, created the beautiful Nature Unveiling Herself Before Science in 1899. He used marble, onyx and malachite in his original work, which can be seen in the Musée d'Orsay, Paris. Henri Jacobs was a very talented Belgian sculptor who lived and worked in Belgium around 1900. He created a magnificent Female Bust from ceramic and Britannia metal in 1904.
The artists of the Art Nouveau style tried to include dynamic movements, sinuous forms and undulating floral motifs in their works. The details were so delicate that a group of artists developed the French Bronze method to enable the production and recreation of each delicate detail. An intricate sculpture was made in small parts and soldered together carefully at the end. Other talented artists include the Frenchman Agathon Leonard, the German Gustav Gurschner, the Czech Alphonse Mucha, the Austrian Dagobert Peche and many others.
For more information
Inhof Restoration & Design
inhofrestoration.com.au
Written by Cecilia Inhof
Originally from Period Style Magazine Volume 9