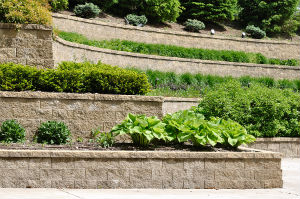 From pavers to retaining walls, you can enjoy the look and feel of sandstone
Specialising in the manufacture of premium-quality, dry-pressed, reconstituted sandstone products, Jolly Rogers (JR) Paving and Stone is a family company that has been operating within the industry for just on 20 years.
Over the years, JR Paving and Stone has built an enviable reputation within the pool and landscaping industries for its premium-quality, cast-stone, bullnose coping and paving products — but this is just the tip of the iceberg. JR Paving and Stone offers an extensive range of cast-stone landscaping products, each carefully crafted from its unique stone mix.
In this backyard renovation, JR Paving and Stone's Interlocking Rockface Blocks have been used to stunning effect to level out the long, sloping site and create three usable areas. Moulded from natural split-face sandstone for a completely authentic look, all you have to do is dry-stack the Rockface blocks to create retaining walls and garden beds.
As a means of dividing the expansive area of lawn from the newly established garden beds, the owners of this property chose JR Paving and Stone's Bullnose Kerb Edging. To complement the tall edging pieces and interlocking blocks, they then opted for JR Paving and Stone's 450mm x 450mm x 40mm Rustic Stone Pavers. These pavers have been used to create a path between the different levels and to pave the lower entertainment area near the house.
All the products used in this renovation project — the pavers, Rockface step treads, blocks and capping as well as the bullnose kerb edging — were handmade from the same mix of crushed stone aggregate and highest grade cement to give a consistent look throughout the whole landscape.
As this garden makeover proves, JR Paving and Stone's premium-quality cast-stone products have the kind of classic good looks that make them suitable for both formal and contemporary settings. Cool underfoot, salt-safe and slip-resistant, cast-stone is particularly well-suited for use around pools and in outdoor entertaining areas.
Hard-wearing and with a smooth, fine-grain surface that gives the look and feel of sandstone, products come in a wide array of appealing natural colours. The product range is equally extensive, including large-format paving slabs, bullnose and square-edged pool coping with dedicated corners, skimmer box surrounds and lids, bullnose step treads, bullnose curves, wall and pier capping, stone architraves, rockface blocks and veneers, benches, pots and planters.
JR Paving and Stone can also supply paving and bullnose coping in natural sandstone, limestone, travertine, granite and basalt as well as various stone wall cladding feature tiles, cobbles and pebbles.
With a national network of agents, call JR Paving and Stone when you need a quality stone product for your next landscaping or pool project.
JOLLY ROGERS PAVING AND STONE
14 Erskine Road,
Taren Point NSW 2229
Tel: (02) 9525 3358
Fax: (02 9525 3359
Email: info@jrstone.com.au
Website: www.jrstone.com.au