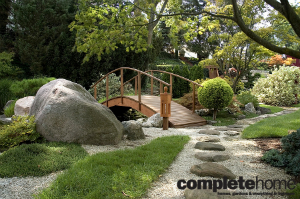 Stylish high-rise outdoor entertaining areas and garden rooms are within your reach
Story: Carrol Baker
These days more and more people are opting for apartment living but this doesn't mean they want to forgo the pleasures of having a garden or an outdoor entertaining space. Designing your own unique garden room on your balcony is easy. Whether you're looking to create a place of quiet contemplation or a vibrant, contemporary entertaining space, your options are limited only by your imagination.
When designing your space firstly assess the environmental factors. How is your balcony affected by the elements? Is it in full sun or part shade, and during what times of the day? What about prevailing winds? Is it overlooked by other apartments? All of these factors will influence your plant selection and the positioning of pots, furniture, screens and shade systems.
To create a striking effect, begin by choosing larger pots and group them in twos or threes, says Tim Barnes, director of Balcony Gardens Australia. "Less is always more — lots of small pots can add clutter and make the space appear smaller," he says.
For a contemporary yet dateless look choose neutrals such as charcoal-coloured pots in pressed cement or those with the look of old stone or sandblasted terracotta, he suggests. To create a harmonious union between the interior of your apartment and your balcony garden room, use pots that pick up on the colour scheme of your internal living area, he adds.
Joanna Rogers, owner of The Urban Balcony agrees that the streamlined look is in and that referencing your interior décor is the way to go when selecting everything from pots and water features to furniture and tableware. "Contemporary, simple and uncluttered — these are the key trends in furnishing balconies at the moment. And as the majority of balconies have strong links to the interior via large glass doors, the interior décor tends to strongly influence the decorating style for the balcony," she says.
For most balcony gardens, making them as low-maintenance as possible is imperative, both in terms of furnishings and plants, says Emily Coakes, a landscape designer and horticulturalist consultant. If you're going to have plants, you need to select plants suited to the amount of time you have to care for them, she says.
Hardy drought-tolerant plants are a wise choice. "Make a bold statement with sun-loving foliage plants such as yuccas and New Zealand flax. For a floral contrast consider cascading ivy geraniums to give a Tuscan feel or Mandevilla 'Crimson Fantasy', if you want an easy-care climber. Another possibility is a shrubby creeper like dwarf bougainvillea, which is not overly vigorous so perfect for smaller spaces," suggests Emily.
You can also add a touch of the dramatic with vibrant plants for shady or part-shade areas including bromeliads, Anthuriums or peace lilies In warmer climates, non-flowering accent plants, including lush parlour palms, Cordyline 'Rubra' or 'Negra' and philodendron, can give your balcony garden a tropical feel.
Add pot feet or saucers to your pots to prevent moisture loss and minimise runoff. For zero runoff, sit a plastic pot into a ceramic one and drape coconut fibre across the top of the pot to disguise it, suggests Emily. And to give potted plants the best chance of thriving, use good-quality potting mix, water crystals and mulch.
For many apartment dwellers, a few feature plants in pots are all that is desired with the focus firmly on furnishing an outdoor space for relaxing or entertaining. The key to success is creating a multifunctional outdoor garden room with clever design features, such as a custom-built daybed with storage space underneath, or mounting a water feature on the wall rather than have it take up valuable floor space.
"We have noticed a significant increase in the number of people wanting to furnish their balconies. There has been a lot of apartment development over the last two to three years which is, in part, driving this increase. However, we also believe the increase is due to the lifestyle choices many people are making," says Joanna Rogers.
"A lot of our clients love living in an urban environment and are very design-conscious. As a result they want to achieve a high level of design in all areas of their living accommodation, including their balcony."
Space need not be a barrier to achieving something attractive and functional but making the most of a small space definitely requires creative thinking, says Joanna.
"There are many products available now that are suitable for smaller spaces and several of our standard furniture ranges can be custom-made to suit a smaller space," she says. "The most common issue we encounter is a long narrow balcony that is not wide enough to allow you to comfortably fit a standard dining table. In these cases we find a custom-made table that is even 50-100mm narrower can make an enormous difference.
"Our design philosophy is based on four main considerations: space, style, elements and living," continues Joanna. "We always start by considering the space in terms of the physical and environmental constraints of the balcony. The style is determined by a client's personal style, the style of their interiors and the style of the building while the elements are the ingredients that will bring the balcony to life. And finally, living is about the client's lifestyle and how they would like to use the balcony."
Today, architects are designing balconies to be used as outdoor rooms or garden spaces so recently built balconies tend to be covered and more protected from the elements, which allows a wider choice of materials. But the range of indoor-outdoor dining and lounging furniture is so broad and the choice of weatherproof materials so wide you can achieve any look you desire.
Of course, there are practical factors you need to deal with that don't pertain to "regular" gardens. There are issues of weight to be considered (heavy sandstone or cement planters or pavers aren't usually a wise choice), size (and that doesn't just mean will the table fit on your balcony, you need to check it will fit in the lift first), privacy, shade, wind protection and waterproofing, but with some expert advice and good pre-planning, none of these factors need be a problem.
But, adds Tim Barnes, there is one last element you need to consider if you want a balcony garden that has day and night appeal — lighting. "Create the ideal ambience with subtle lighting; it plays a major part in the overall look," he says.