A composite range of windows and doors was the perfect solution for this Sydney builder's own home.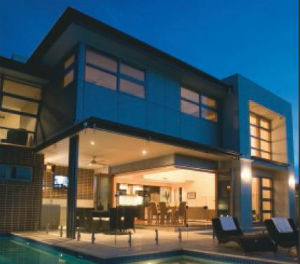 Builder David Gremmo knows all about doors and windows, having chosen them for Gremmo Homes for more than a decade. So he had no doubts about what product to use when it came to designing his own prestige home in Bella Vista. Dave went straight for the A.T. 2000 Series, a composite range which teams natural wtimber on the inside with powdercoated aluminium exteriors. "With this particular design it was important to introduce some natural materials internally throughout the home to juxtapose the contemporary façade features," Dave said. "However, it was also important to maintain the external appeal of an aluminium window frame. "A composite range of windows and doors was the perfect solution."
By marrying timber and aluminium, the A.T. 2000 Series also provides homeowners with a whole host of other benefits. On the outside, the aluminium windows and doors are very strong and durable and require virtually no upkeep. Owners can take their pick from a range of different aluminium colours, with something to match almost every exterior colour scheme. Inside, the red cedar timber imparts a visual warmth and richness and can be stained, varnished or painted. What's more, it's highly energy efficient. Timber is an excellent insulator, helping to keep in airconditioning and protect homes from natural temperature fluctuations.
Dave makes the point that "windows are an integral consideration when assessing the energy efficiency and thermal performance of a home". With this in mind, the A.T. 2000 Series of windows is an ideal choice for owners wanting to minimise their energy costs and environmental footprint. Not only do they provide superior insulation; they have been designed for the full range of Australian climatic conditions. Windows take up approximately a 10th of a new home build price and Dave believes the decision on which product to use is a pivotal one. "Windows have become more than a functional necessity of homes," said Dave. "They are now an essential architectural element to consider, in contemporary designs in particular.
Much of the aesthetic impact of a home is related to the window choices." Aesthetic considerations were also key when David chose the A.T. 2000 corner bifold door for his stunning outdoor living area. "The corner bifold door is unique in that it enables true integration between the home's indoor and outdoor living spaces. The corner bifold door allows the living room, alfresco dining, pool area and yard to become one without the obstruction of unsightly and annoying support posts." With their clever design principles and natural timber interiors, the A.T. 2000 windows and doors were a perfect match for Dave's contemporary new home. Add practicality, durability and energy efficiency to the list of benefits, and you can see why the composite range was builder Dave's first choice for his own dream home.
Project Particulars:
Windows and patio doors: Stegbar
Tel: 1800 681 168
Website: www.stegbar.com.au
Entry and internal doors: Corinthian Doors
Website: www.corinthian.com.au
This project was built by: Gremmo Homes
Baulkham Hills NSW 2153
Tel: 02 9629 9509
Website: www.gremmohomes.com.au