Classical, French Provincial, Art Deco, mid-20th Century, retro, vintage, modern, contemporary, eclectic, pop-modernism; these are just some of the genres that describe today's furnishing styles.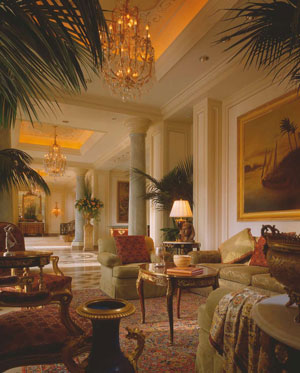 The style of furnishings you choose for your home will often, but not always, be influenced by its architecture. Contemporary furnishings can sit well in more classical-style homes, however, the reverse is rarely true. The size and scale of your home and your rooms will determine what furniture works best; never clutter and always endeavour to make your rooms appear more spacious than they are. Clever use of colour, pattern, scale and space planning can make an otherwise small room into one that appears much bigger. Larger rooms require a sound understanding of the principles of good design to ensure they are adequately furnished and not left looking empty.
A combination of periods and styles can make a home seem more lived in and eclectic; as though you've collected pieces over time. But that's not to say you can't achieve a stylish interior buying everything new, as long as care is given to choosing your pieces very carefully. Interior designers are the experts in this area and you may well be better placed to work with one than to do it all yourself unless you really have the "know how".
The most exciting part about furnishing your home is deciding what to buy. We've outlined several of the main styles which are popular today, incorporating examples including living, dining, bedrooms, outdoors, lighting and accessories, along with tips from the experts to help you unleash your creativity and find the look you love.
Rococo:
The Rococo style is an 18th century style characterised by lightness, delicacy, and elaborate ornamentation. The term Rococo comes from the French word rocaille, meaning rock or stone, and coquilles, meaning shell, as these were the motifs upon which ornamentation was based. Characteristics of the style are based on arabesques, elaborate curves, asymmetry and iridescent pastel colours. Rococo spread quickly to other European countries, in particular Germany and Austria, where it was united with the then-popular baroque modes to create a style of incredible lavishness and profusion. Rococo gave way to the austere neoclassical style late in the 18th century and disappeared completely and abruptly after the French Revolution in 1789.
Neo Classical:
Neoclassical style is based on the architecture of Classical Greece and Rome. This style was revived in the 18th and 19th centuries and came about due to a renewed interest in the ancient classical civilisations driven in part by the excavations at Pompeii and Herculaneum. The style is characterised by grandeur of scale; simplicity of geometric forms; Greek, especially Doric, or Roman detail; dramatic use of columns and a preference for blank walls. It has been said that the style was a reaction to the previous heavy styles including the Palladian and Rococo. The furniture and interior design styles that resulted incorporate inlay, veneer, light carving and relief, marquetry and painting. In France, this movement was called Louis XVI, and in England the style is most associated with names such as Adam, Hepplewhite and Sheraton.
Art Deco:
Art Deco is a period style which came into vogue in the inter-war years. The style occurred in almost every visual medium including architecture, art, furniture, fashion, film and graphics. This "modern" style was a universal move away from the traditional and was characterised by clean, geometric and elegant lines that replaced the more elaborate decoration of previous styles.
The inspiration for Art Deco is regarded as having its origins in pre-World War I Europe when great changes occurred in technology, ushering in new materials and manufacturing techniques that led to mass production. Born in Russia in 1892, French designer, Romain de Tirtoff was a diversely talented artist and designer known by the pseudonym Erté, which was the French pronunciation of his initials, R.T. Erte was a central figure in the Art Deco movement who flourished in an array of fields, including fashion, jewellery, graphic arts, costume and set design for film, theatre, and opera, and interior decor through much of the 20th century. His bronzes, paintings, sculptures and lamps are some of the more recognisable creations of this talented artisan. Art Deco remains enormously popular around the world, being increasingly appreciated by new generations who welcome its simplicity, superior materials and finishes.
French Provincial, Parisian:
French style is timeless and one of the most popular looks in furniture today. Whether you like the country charm or the chic sophistication of Paris, French style is the epitome of flair and elegance.
Mediterranean:
Australians love the Mediterranean style; it evokes images of restored farmhouses or hilltop villas, olive groves and wonderful coastlines. The casual European lifestyle is reflected in relaxed and colourful design, rustic furniture and wall textures. Nature is evident in the architectural elements and furnishings of the Mediterranean style. Terracotta tiles, rough-cut stone, beams, stucco and pine wood are all used liberally. It's a wonderful style that brings a touch of Italy, France or Spain into your home.
Retro or Vintage:
Retro or vintage furniture is the ultimate in "environmentally friendly" as it recycles or up-cycles items without the need to use new resources, thereby also avoiding landfills. The greenest product is the one that already exists.
Modern contemporary:
With its roots in the Bauhaus, today's modern style has an emphasis on angular lines and lack of ornamentation. Equally influential was Scandinavian style, which stressed minimalism, mass production, and simple, functional forms. Modern-style rooms are uncluttered, streamlined and sleek with open-plan spaces. Colours for modern rooms are mostly neutral; white or a shade of white, although blocks of colour can be used for effect. Furniture is most often neutral or tone on tone, with textures, leather and smooth finishes dominant. Colour is often added with accessories and furniture is low, simple and modular. Glass, chrome, marble, stainless steel and leather are prominent finishes and the idea is to create comfort without clutter. Today's contemporary style borrows from modern but may also include influences from other eras as well as totally unique elements. Contemporary style includes current trends, materials and methods providing an opportunity to totally personalise your space with a few well-chosen pieces to impart the style of the times.