Carrol Boyes shows off her meticulously crafted range of homewares.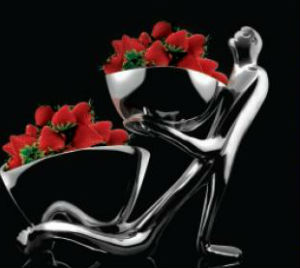 Artist, designer, entrepreneur and successful businesswoman, Carrol Boyes, is recognised as an icon by the South African design industry. With a degree in Fine Arts, and after a decade of being a teacher and acclaimed artist, Carrol became involved full-time in creating her sculptural designs. Carrol Boyes Ltd is a woman-owned, multicultural company designing, manufacturing and distributing an extensive range of distinctive metal homeware, giftware, flatware and tabletop products. The meticulously crafted product range currently encompasses well over 1000 items. Trademark metals and materials include pewter, spun and cast aluminium, stainless steel, chrome-plated zinc, wood, and leather as well as ABS resin.
How do you feel your business has changed since it was launched in 1989?
I try to follow trends and the needs of my customers. When the demand for dishwasher-proof flatware became pressing, I introduced stainless steel into the range. When customers asked for good quality leather items, I designed a range especially with them in mind. As worldwide trends change and the economy gets tougher, I look for ways to streamline the processes without compromising the essential handmade quality of my art.
What drives you…where do you get your inspiration?
 I see the human body in everything — a lamp post, a hammer. That's the way my mind works. A hammer is a woman with a big nose and curly hair.
Do you have a favourite piece you've designed? If so, what and why?
All my pieces are my favourites. I find it incredibly difficult to part with an item when it reaches the end of its viability in the range for whatever reason. This season, the Chip 'n Dip has been a phenomenal success with its sculptural quality combined with utilitarian functionality.
What's next for Carrol Boyes?
We have an exciting nationwide New Products launch in September! This electrifying new range represents a body of work completed over the past year that not only brings you a complete new range of Carrol Boyes products, but also the creations of established South African artists, for the first time, designing exclusively for the Carrol Boyes label. These exclusive line extensions have never been seen before. They explore other disciplines and promise to bring good quality South African design aesthetics into your home.
Can we buy your products in Australia? If so, where?
Functional Homeware Pty Ltd in Sydney.
DETAILS
Website: www.carrolboyes.co.za