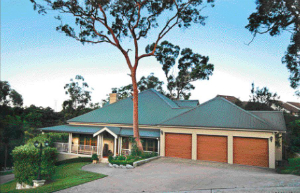 If contemporary design has gotten away from you and rushed forward into a future that doesn't satiate your traditional yearnings, you are not alone. As trends come and go ever quicker, it's only natural to feel removed from them and revolt against fast fashions. Catering to this burgeoning market of retrorevolutionaries is Australian Colonial Homes, which, under the watchful eye of Darren Thelins, is turning back the clock.
Houses built by Australian Colonial Homes are exquisite examples of design and construction, with every detail meticulously pored over to depict an individual character and style. What radiates inside and out is a genuine warmth and charm no longer routinely found in residential design. The scope of personality able to be liberally applied to each project is endless, allowing clients the opportunity to create a home tailored to their individual needs and preferences. From blank canvases, Darren produces nostalgic masterpieces, transporting homeowners back to days gone by. Wide hallways, 3.3-metres-high ceilings and colonial archways are revived in his creations to provide an agreeable atmosphere, while highlights over internal doorways provide extra light and ventilation to enhance the inviting ambience. Polished timber floorboards are much-loved staples of Australian Colonial Homes projects, as are large skirtings, plaster cornices, cedar windows, French doors and old-fashioned light switches. The combination of these features results in beautifully appointed homes that inspire an undisturbed down-to-earth lifestyle. Sprawling verandahs shaded by Colorbond roofing complete the picturesque scene evoked by Australian Colonial Homes.
It is not surprising the company has garnered wide-spread recognition from its industry peers and clientele. Several awards can be found in the impressive Australian Colonial Homes portfolio — a testament to Darren's traditional vision. Darren appreciates the fine points of traditional design and does not get caught up in passing fads, preferring to remain true to the tried-and-tested character and craftsmanship of yesteryear. However, Australian Colonial Homes always ensures your amble into the past is an opportune one by utilising the modern conveniences now available to combat the hectic pace of life today, allowing you to experience the best of both worlds and live the past here in the present.