This contemporary residence incorporates Australia's casual lifestyle with both an elegant and cosmopolitan design.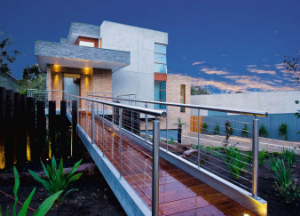 In a quiet, leafy Melbourne street, this striking and sophisticated Daniel Robertson brick home makes a statement. Built by En Vogue Developments P/L, the home was carefully fashioned to represent a pristine environment. Wanting to create a private resort-style atmosphere akin to where beach meets the tropical rainforest in far-north Queensland, Simon Theobald of En Vogue Developments P/L describes the design as "a home that defines a modern Australian lifestyle". 
Having established a relationship with Daniel Robertson Australia over a number of years, En Vogue's decision to use the 50mm Roman Buff Blend brick was an easy one. Simon describes how the bricks enhance the overall design and capture the objectives of the project: "The bricks complement and highlight the natural and built environment; the subtle earthy tones work well against the rich timber and stone façade." For more than 155 years, Daniel Robertson Australia has endeavoured to supply the building industry with the most unique and high-quality clay products.
Combined with other earthy materials such as timber and stone, the rustic brickwork in this unique home unites the natural landscaping with the suburban environment. The Roman Buff Blend captures the warm, light hues of summer, while still representing the timeless appeal for which Daniel Robertson is renowned.