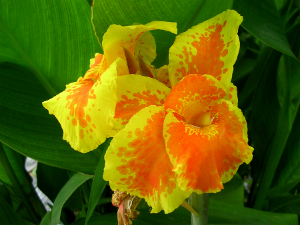 If you're not a natural green thumb, plant selection is tough so we asked garden designer Christian Jenkins for a few easy-grow suggestions
1. Canna 'Tropicanna Gold'
This name says it all. The bright yellow-edged orange flowers of this canna lily last from summer through to autumn and the lime-green foliage is enough to make any gardener smile. Tropicanna Gold will grow in full sun to part shade and will reach 1.8m in height. It likes all soils, even boggy wet areas, and just needs to be cut back to around 10cm in autumn. Plant en masse and watch it go Tropicanna all over.
2. Banksia spinulosa 'Cherry Candles'
My love for Australian natives is confirmed with this little pocket rocket. While they only grow to 50cm high, Cherry Candles reach about 90cm in width with time. The dark-green foliage is the perfect backdrop for the cherry-and-gold-coloured flowers that are spectacular from late summer and give the garden excitement in winter. Planted en masse in a garden bed, this plant will be a real feature and it is guaranteed to attract the birds. You will need well-drained clay or sandy loam soil. Full sun is okay, as is light frost. Just prune off the flowers when they're finished.
3. Magnolia grandiflora 'Little Gem'
This plant has it all: evergreen foliage, it only grows to 4-5m tall, and it produces beautiful creamy, fragrant, cup-shaped flowers in spring and summer. Little Gem will grow in both full sun and part shade (although for best results it needs a sheltered position); it is frost tolerant and loves a well-prepared soil with mulch. This small tree is the perfect hedging plant and needs next to no maintenance.
4. Acer palmatum 'Sango Kaku'
There are more than 1000 varieties of Japanese maple to choose between but Sango Kaku is one of the most intriguing. Prized for its bright-red bark in winter, Sango Kaku is a small deciduous tree that will create interest in any garden. The preferred growing conditions for this and other maples is a rich, moist, well-drained soiled that has been mulched. A hardy plant when grown in the right location, it prefers a combination of full sun and shade.
5. Acacia cognata 'Green Mist'

This dwarf form of the River Wattle produces small pale-yellow flowers during spring and grows to 1m with a 2m spread, creating a great filler for any well-drained space in the garden. In full sun or part shade, this little beauty will bring endless enjoyment with no effort and the weeping habit will be a great inclusion to any garden. Plant en masse or let Green Mist stand alone, perhaps spilling over a rockery. It will also perform well in a pot. A definite must-have.
6. Agave attenuata
Mexico is not only famous for the taco, as anyone who has discovered the merits of the agave will know. This long-lasting plant is a classic for any full-sun position. In fact, the more you neglect it, the better it grows. The agave is a hardy succulent boasting bluish-green leaves that can grow anywhere from 20cm–75cm long. It produces new clumps over the years which can be separated from the main plant and given as gifts to friends. A large arching yellow spike flower will be formed with age. This plant is guaranteed to create no maintenance in the garden.
7. Cycas revoluta
This plant is as old as the dinosaurs, which tells you how hardy it is. A great addition to any garden, the cycad (also sometimes referred to as the sago palm) is slow-growing and produces soft palm-like foliage. The cycad prefers full sun and good drainage, although it will perform in a shaded area of the garden and the only maintenance it needs is for you to tell it how beautiful it is. Very old cycads grow more than 1m tall and have a feature trunk that will become a focal point in any garden. Just be aware that the ends of the leaves are very sharp and can irritate the skin.
8. Helleborus orientalis
Helleborous (known also as the Lenten Rose) is a low-growing shrub that thrives in rich, deep, well-drained soil. Mass-planted under trees or in any semi-shade area of the garden, they will happily fill up bear patches. Helleborous is semi-evergreen and drought-tolerant, producing spectacular flowers from mid-winter to spring, ranging in colour from white to green to deep purple, depending on the variety. Remove all old foliage to regenerate. Shown here, Helleborus 'Ivory Prince'.
9. Cercis Canadensis 'Forest Pansy'
One of my favourite plants in the garden, this deciduous small feature tree will grow to 5m x 5m and loves full sun. The Forest Pansy is an eye-catching tree with purple heart-shaped leaves that sit gracefully throughout the year. Masses of pinkish pea-like flowers fill the tree in spring and in autumn the leaves change colour creating a feast for the eye. It likes well drained soil and will respond to an annual prune for a denser growth habit. 
10. Anigozanthos sp.
Kangaroo paws (Anigozanthos sp.) come in a range of colours and sizes and new varieties are being developed all the time. This distinctive native plant looks great whether used as a feature in a pot, a colour accent or planted in swathes. Bird attracting and easy-care, kangaroo paws tend to like sandy, gravely soils with perfect drainage and they are happy in full sun. In the right conditions kangaroo paws will grow over 1m high and produce clusters of flowers throughout spring/summer, ranging in colour from gold to pink to red depending on the species. It enjoys regular watering and will respond to a hard cut back when you feel it is getting too big. Shown here, Anigozanthos 'Bush Dance'.