We bring the newest and most innovative products and ideas your way.
The colour trends of Summer 2012/2013:
Taubmans believes that this coming summer has some beautiful and eclectic looks to offer your home. These looks are categorised into four different stories; the Local Revival, Beauty queen, Quiet Tech and Deco Candy, each of which offer gorgeous colours for the home owner to play with.
The Local Revival is about starting to think simpler, familiar and inexpensive. Homeowners are switching off from the virtual reality to be better connected to the real world; fresh local food, the rhythm of the seasons, the material of the region. Our growing desire of unplugging from a complicated life generates a desire for proximity and autonomy. The aesthetic focus is simple and local.
A strong folkloric flavor that influences the colour palette and tells us stories of the community passed through generations like a good jam recipe. Made of a mix of red berries, a modest muted stone colour neutral, a warm creamy white, all-together anchored by a solid reliable brown. the strong colours of this are Rum Punch, Burnt Red, Spice Delight, Earl Grey, and Poppy Pods. the Local Revival is a look that conjures feelings of modesty, familiarity, respect, sustainability, and the fundamentals of life. 
The context of Beauty Queen is highly social, where the decor is a scene for fun, pleasure and extravagance.
Glamorous and bold, it channels the spirit of a mix of 70s and 80s. This is the decor of a strong unapologetically confident woman or of a suave and charming man. To create the atmosphere of the Beauty Queen decor, Taubmans composed a very feminine palette. Bold pink and purple have been paired with a softened white, a subtle cosmetic pink and an aqua blue. They easily could also be used against black or grey. The key shades used were magic magenta, panama rose, and swish. this look is designed to conjure ideas of glamour, sophistication, luxury, fantasy, and confidence
Quet Tech is a design movement that foregoes a conspicuous display of status for understated chic, it marries beauty with efficiency. It is a philosophy that puts technology and design at the service of simple intuition.
An understated chic is achieved with a fine balance of softened whites, calming neutrals, and accents of indigo blue. Softened whites have a more calming effect than stark whites, they are neutral enough to pair easily with dark and mid tone indigo blues with calming neutrals like light greys and pale wood tones. To achieve this Taubmans used the calming shades Salinger, Blue Tang, Chinese porcelain and Earthy ochre. The ideas that this design conjures are that of humanised technology and a unique, intellectual sophistication. 
Vibrant colours and fun design are making your home a joyful playground. This chromatic trend of bright colour blocking is all about energy and optimism. Stripes and colour-coded design are bringing organisation to a boisterous spectrum of joyous hues.
??
Deco candy is a harmony between neutral and bold colours. Grey is the dominant player as it gives a neutral palette for the bold colours to stand-out. The bold harmony of citrus accented by a new playful blue gives the colour scheme an irresistible happy face. The designers used the colours of Mohair, frivolous, hearty hosta, orange poppy, silver charm to create this bold atmosphere. This distinctly Summer trend conjures ideas of humour, intesified emotions, surprise and creativity.  
Interior finishes recommended by Taubmans include Easycoat with Microban, an acrylic finish that incorporates an anti-bacterial component that inhibits the growth of mould, mildew and fungus; and Living Proof Silk, an ultra-premium acrylic paint that incorporates Teflon to ensure it is easy to clean and extremely resistant to chipping. Both Easycoat and Living Proof Silk are low-odour formulations available in flat, low-sheen and semi-gloss finishes. 
Taubmans
131 686
www.taubmans.com.au.  
My view – a reflection of your personality: 
Fresh from Villeroy & Boch, My View is an allrounder that puts you and your wishes first. Everything about its flexible interior, ranging from the glass shelves to the multi-tray, can be customised and rearranged at will. The timeless design, the maintenance-free and durable LED lights and the wealth of possibilities make My View a very special mirror. 
It is as individual as you are; the continuous glass shelves and multi-trays are held firmly in position on the sides of the interior walls but can still be adjusted with ease. A round mirror can also be positioned at the desired height on the inside door. The light strips to the left and right of the mirror create optimum lighting around the cabinet whilst lighting up the interior, too.
VILLEROY & BOCH
1300 364 748
www.villeroy-boch.com  
www.argentaust.com.au  
Wardrobe workout: 
If rummaging around your bedroom for clothing and accessories is becoming a regular feature of your day, take some expert tips from Howards Storage World and give your wardrobe a workout.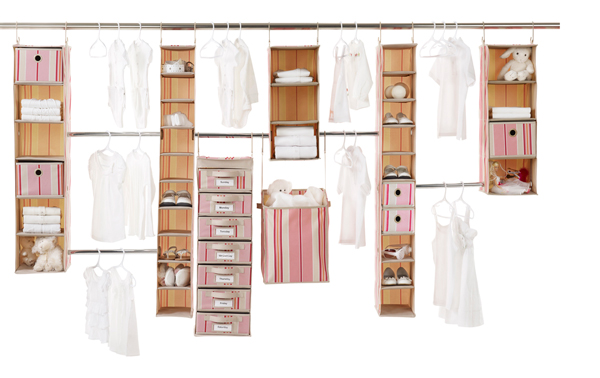 Great wardrobe organisation starts with identifying a system that best suits your storage needs. Howards' organisational expert, Cathy Player, says setting systems that create a dedicated spot for each item is critical in staying organised in the long term.
"Start with a careful review of your clothing and accessories and identify how much hanging and shelf space is required to accommodate your collection. Once these key points have been addressed, select a range of functional storage solutions that can be utilised every day so your wardrobe wonderland will outlast the week!" says Cathy.
Encourage children to be organised by making it easier for them to put things away. the new "Neat Freak" range makes organisation of the child's clothes practical, independent and fun. Buy storage solutions that excite your child and he or she will be much more inclined to use them. The neatfreak range of products comes in brilliant candy colours and can be hung in a wardrobe, vastly increasing its storage capacity. 
Howards Storage World
1300 666 616
www.hsw.com.au  
Dedon Seax Wallpaper Design Award 2012:
SeaX collection by Jean-Marie Massaud won the Wallpaper* Design Award 2012 in the category "Best Backyard". Granted at the beginning of every year by London based Wallpaper* Magazine – the international design, fashion and lifestyle bible, the "Wallpaper* Design Award" is what the Oscars means to cinema and the Nobel Prize is to science.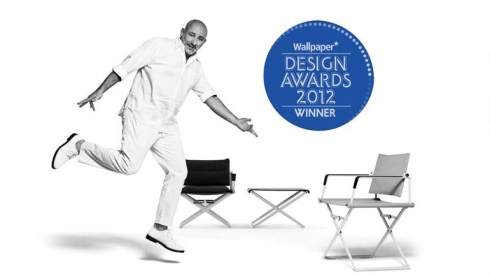 Five international judges with a supernatural sense of what's right and right for right now choose the winners of the eleven major categories. The remaining categories have been nominated by the international Wallpaper* Team of staffers and contributors. 
The collection SeaX stands for elegance and modernity, for attention to detail and a wealth of innovative design solutions. The collection is based on the design of a lightweight, flexible, highly complex director's chair inspired by the sleek racing sailboats that take part in the America's Cup. The stylish combinations of the characteristically innovative, weather-resistant DEDON materials, colors and structures give the SeaX collection a minimalistic design and a highly exclusive look. 
Contact your nearest Domo Showroom for further information. This product will be available early spring 2012.
Domo Collections
03 8803 8870 
www.domo.com.au 
Make an entrance with Axolotl Entry Doors:
Axolotl is at the forefront of contemporary surfaces and our range of doors exemplify our unique product. 
An Axolotl door sets the tone of a home from the outset, establishing character and bespoke quality. All of the doors we create are custom designed by our design team in ongoing consultation with our clients, allowing our clients complete control and ownership over the process. This inclusive collaboration produces stunning results, such as the image above. 
Axolotl Group
02 9666 1207
http://axolotl.com.au 
Hardware made easy:

Tidying up the hardware in your garage or shed doesn't have to be hard — or expensive. 
With a few low-cost shelves, boxes and hooks, you'll have everything from screws and nails to hammers and hoses sorted in no time. You might even have enough space for the car again. Shown is the Broder combination of galvanised steel and untreated wood, with many useful features. These include a flexible system with many possibilities of combination; choose a combination that fits the space available and meets your storage needs. Galvanized steel which protects against corrosion. Solid wood which can be cut to desired width. Untreated wood which can be treated with oil, wax or glazing paint for increased durability and a personal touch.
IKEA
Richmond (Melbourne)
03 8416 5000
Homebush Bay Drive (Sydney)
02 8002 0400
Logan (Brisbane)
07 3380 6800
www.ikea.com.au  
Colourbond Steel – Perfect for your home:
There are so many reasons why COLORBOND® steel is the right choice for your home. Here are just five of them…

1. Colourbond Steel is made for Australian conditions. For over 40 years scientists have been rigorously testing COLORBOND® steel in some of our country's harshest climatic conditions. So whether your roof or walls, gutters, fence or garage doors are made from COLORBOND® steel, you can be sure its great Aussie looks will last.
2. There are a wide range of colours to mix & match. From light to dark, delicate to deep, elegant to lively, the standard COLORBOND® steel range includes 20 beautiful colours inspired by nature. This gives you the scope to achieve the look you want to suit your house style and the surroundings.
3. Thermal efficency for year-round comfort. COLORBOND® steel cools down fast when the sun sets, so less heat is radiated into your home. In winter the same roof, combined with insulation, helps keep the warmth in. Also every colour in the standard COLORBOND® steel range features Thermatech® solar reflectance technology to reflect more of the sun's heat in summer. So your home is more energy efficient and can help reduce your cooling and energy costs.
4. It is an inspiration for innovative home designs. Because steel is lightweight yet extremely strong, it is ideal for today's modern home designs. These could feature high ceilings, open-plan layouts, dramatic wall lines and stylish roofs, whether curved, flat or pitched.
5. Made and backed by Australian owned BlueScope Steel. COLORBOND® steel is strong and durable. Its made in Australia for Australia and warranted for a range of applications by BlueScope Steel.
Colorbond — Bluescope steel
1800 022 999
www.colorbond.com  
www.colorbondcolours.com  
Dorf – pushing the boundaries of design: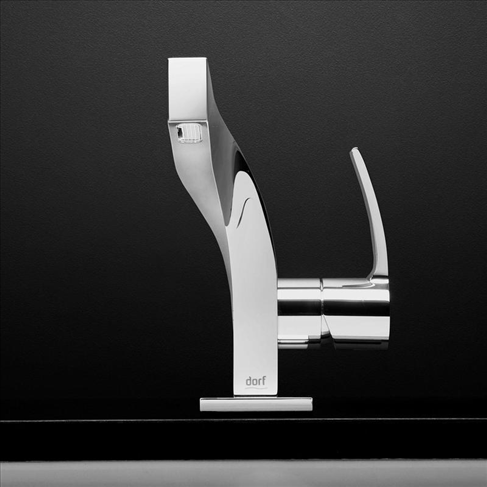 The Dorf Whirl range of mixers pushes the design boundaries to another level. Flowing curves, smooth bends, and elegant twists challenge the mind and please the eye. Features include 6L/minChrome 25mm cartridge, the Whirl eliminates drips, and reduces water consumption, contains flexible braided soft pex hoses. the Whirl Range Rates 5 stars by WELS.
Dorf 
131 416
www.dorf.com.au
From Renovate & Extend 5.2