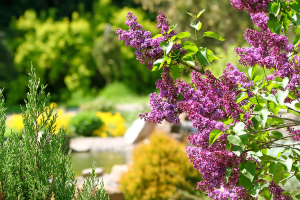 From the festivities of Floriade to the many public gardens, Canberra has much to offer
Story: Karen Booth
Whenever I think of Canberra, my thoughts go to its many lovely parks and beautifully landscapes gardens, both public and private. There is the amazing sculpture garden at the National Gallery, the beautifully maintained grounds of period properties such as Lanyon Homestead and Calthorpes' House, and Redbrow Gardens, an award-winning country garden just outside of Canberra. And of course, there is Floriade.
In terms of profile, Floriade is more than Canberra's best known horticultural event. It is the largest flower festival in this part of the world drawing plant lovers from around the country and overseas. A month-long event, it's held from mid-September to mid-October each year (timed to coincide with the spring school holidays) and sees Commonwealth Park, a lovely large open space that hugs the shores of Lake Burley Griffin, transformed into a sea of mass planted, spring-flowering bulbs.
The floral displays are supported by a program of workshops, kids' activities and entertainment and last year a new event was added to the program, NightFest. This involved five nights of live entertainment and film screenings, all under the stars and set against a twinkling backdrop of lanterns, fairylights and illuminated garden beds.
Most visitors to Canberra during Floriade take the opportunity to spend a few days and check out some of the city's many lovely gardens and public parks.
Lanyon Homestead, in the Canberra suburb of Tharwa is a great place to start. It is a lovingly restored 1850s homestead with stunning gardens that is open to the public most of the year. You have the option of joining a guided tour or exploring the home and grounds on your own. To make a day of it, bring along a picnic lunch or dine at the café. (For more information, visit /)
If period houses and gardens interest you, a visit to Calthorpes' House is a must. This 1920s property on Canberra's Mugga Way is like a life-sized time capsule … right down to the air raid shelter.
A popular desitination is Redbrow Garden in Murrumbateman, just a 20 minute drive from Canberra. Both a rural garden and a wildlife haven, Redbrow Garden also offers four-star bed and breakfast accommodation and is open Sundays from September through to May.
Redbrow Garden, an award-winning destination, does more than just demonstrate what can be achieved with passion and perseverance (it was once a rather desolate sheep farm). The owners grow a multitude of different fruits on the property, keep free range chickens and the whole thing is run on sustainable principles. And if you like what you see, the owners can provide day visitors as well as bed and breakfast guests with information booklets on plant species and native habitat creation.
If you have the kids in tow, a visit to Cockington Green Gardens might also be something you want to put on the agenda. This is a family-oriented tourist attraction well known for its miniature displays of famous buildings and scenes drawn from 25 countries, and for its beautifully landscaped grounds.
When the gardens were first planted, it was done to complement the miniature displays but the grounds have now become a drawcard in their own right with 25,000 colourful annuals planted each year and an impressive range of dwarf and miniature plants. The manicured lawns are, for many, a highlight with most visitors thinking the grass used in the displays must be artificial because it is so trim and green. But it's not, it's the real deal.
You can't visit Canberra, however, and deny yourself a visit to the National Gallery's sculpture court, a paradise of native plantings, water features and, of course, sculpture. If you're interested in native plants, the Australian National Botanic Gardens in Acton are also worth a visit. You can enjoy the tranquility of the Rainforest Gully, stroll the meandering paths and stop for a bite in the garden café.
Soon there will be a new attraction for plant lovers — The Canberra International Arboretum and Gardens. The Arboretum will be one of the centrepieces of Canberra's centenary in 2013 and is expected to be a tourist destination and educational/research facility of international repute.
Located on a 250 hectare site six kilometers from the centre of Canberra, the Arboretum (a collaborative effort between landscape architects Taylor Cullity Lethlean and architects Tonkin Zulaikha Greer) will have 100 forests and 100 gardens featuring different types of trees from around the world (some threatened, some symbolic). Longer terms plans include a mosaic of permanent gardens, outdoor sculptures, and a permanent home for the National Bonsai and Penjing Collection of Australia.
When completed, the Arboretum will cement Canberra's reputation as a must-visit destination for plant and garden lovers.
For more information

Australian National Botanic Gardens
www.anbg.gov.au
Calthorpes' House
www.museumsandgalleries.act.gov.au/calthorpes
Cockington Green Gardens
www.cockingtongreen.com.au
Floriade
www.floriadeaustralia.com
Lanyon Homestead
www.museumsandgalleries.act.gov.au/lanyon
National Gallery of Australia
www.nga.gov.au
Redbrow Garden
www.redbrowgarden.com.au
Tourism Canberra
www.visitcanberra.com.au