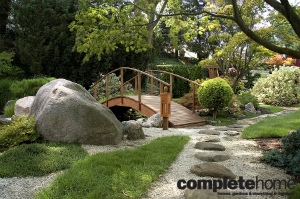 Designed to be enjoyed year-round, this lavish outdoor entertaining area has it all
Story: Karen Booth
Photos: Patrick Redmond
This entertainer's paradise is actually three backyards in one and is designed to give the impression of one large and rather luxurious outdoor living area.
Located in Lyndhurst on the outskirts of Melbourne, the outdoor retreat stretches the full width of a site upon which sits a trio of contemporary new display homes. Exemplifying the level of design and finish you would normally associate with custom-designed homes, this amazing three-in-one backyard oasis is the creation of the Carlisle Homes' design team.
Of contemporary design to match the clean lines and sharp details of the display homes, the entertaining facilities have a modern look but a relaxed ambience. From the outdoor kitchen to the alfresco lounge, the emphasis is on natural materials, comfort and functionality.
"By incorporating all three yards into one space we were able to construct a series of outdoor entertaining and leisure facilities that represent the complete outdoor entertaining experience and provide the biggest wow factor ever seen within a display home setting," says Carlisle Homes' interior designer, Carissa Linden.
"The centrepiece of the space is definitely the expansive in-ground concrete pool. It incorporates a projecting daybed complete with upholstered bed and bolster cushions and a sun deck for sunbathing. This cantilevers out over the water, creating a resort-style poolside experience."
A raised wall clad in stack-stone forms a dramatic backdrop to the pool and supports two large hand-carved stone Easter Island head fountains, which spray recirculated water into the fully tiled pool. A frameless glass corner pool window allows glimpses into the inviting crystal-blue water while the large-format, dark charcoal concrete pavers around the pool 'frame' the picture.
"Either side of the pool there are two outdoor entertaining pavilions which are interconnected via decks and walkways for flow-through access," continues Carissa.
To one side is a covered dining area and an outdoor kitchen with an overhead rangehood and a breakfast bar-style bench into which has been integrated several cooking plates. The kitchen area flows from an alfresco dining space and has been designed to function almost as an extension to the house.
To the other side there is a separate raised lounge area with an outdoor gas fireplace set within a rusted feature wall panel, a honed limestone-tiled floor, projecting blade pillar and a wrap-around moat-style pond. The pavilion has been furnished with a comfortable contemporary lounge suite and a coffee table fashioned from woven synthetic fibre.
"Attached to the pool via a sun lounging deck is a raised heated spa finished in glimmering mosaic tiling. The spa is accessed from the freestanding outdoor lounge pavilion," says Carissa.
"Our approach to planting is to not overdo it. Instead, we prefer selected feature planting arranged in a more structured and architectural direction," she says. "Here we have utilised many drought-tolerant and native species, including a varied range of grasses as they are extremely resilient and create a lovely softness to the overall landscaping."
There are several key feature trees, including Japanese maples, and backdrop plantings of black bamboo. All of the plants are watered via a drip irrigation system connected to rainwater tanks.
This distinctive display home setting shows just what is possible with good design and a little imagination.