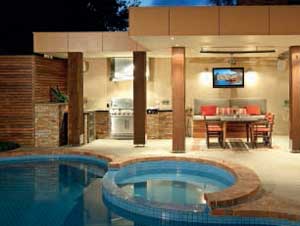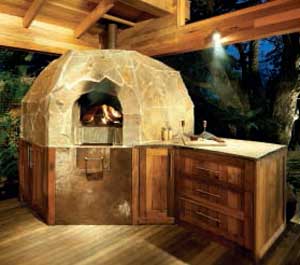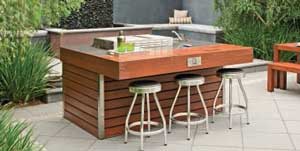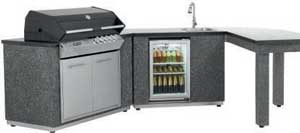 All you need is good food, good friends and a trusty barbecue to get an outdoor party started
Words: Catherine Stewart
Cooking is in an integral part of today's entertaining. Friends arrive and pitch in with the peeling and chopping, swapping recipe ideas and cooking techniques, as working together to make a meal means the sharing of it becomes even more special. Add the beauty of a surrounding garden, with fresh air and fragrance or, at night, pools of light showing plants off in dramatic beauty and there's not many places you would rather be.
You can build a fire in a small hibachi, turn on the gas on a trolley barbecue or go all out with a huge, stainless-steel, fully equipped outdoor kitchen. Each one has its own charms and advantages so don't feel like you have to spend a fortune to make this a central part of the way you entertain. That said, investing in the equipment that best suits your needs is always better value for money, as it means you're much more likely to use it regularly and not get frustrated when it doesn't perform to your expectations.
A smooth, level surface is a safety and comfort must for outdoor cooking, so it's best on paving or decking. Look at the size of your outdoor area, particularly the part that's undercover. Narrow eaves make it difficult to protect a barbecue without a plastic cover. Although they're all weatherproof to an extent, the exposed parts such as the control knobs and ignition will last much better if protected. Covered areas need high ceilings, a chimney, or special barbecue rangehood to vent the very hot, smoky, greasy air. In semi-enclosed (for example, three-sided) outdoor rooms, which don't have adequate ventilation, energy safety laws usually require built-in gas barbecues to have flame-failure devices on all burners. Otherwise you will need to be able to move the barbecue so it's in the open air.
Barbecues come in a wide range of looks, from country rustic to high-tech … you can even find powder-coated barbecues in green, white, red, black and more. Once you've chosen the right type for your cooking needs, you need to make sure it blends with the other materials and general feel of your garden. Complement a large, shiny stainless-steel model with steel balustrades, planters and light fittings, and soften the effect with lots of lush, green planting. A simple timber trolley barbecue can look very at home on a timber deck, or a rendered woodfired oven in a Mediterranean or Mexican-inspired design.
Unless you have the perfect orientation for year-round use, cooking in different parts of the garden lets you entertain through the seasons, or at different times of day. Some homes with south-facing entertaining areas are lovely in summer, but you could also have a separate covered space away from the house that gets some winter sun and move a portable or trolley-type barbecue between the two.
Make your outdoor cooking area part of your garden so it's a distinctively different place to your kitchen. Large plant-filled beds that straddle the space between home and garden, groups of pots with lush foliage and bright flowers, and a vine-covered pergola or shady tree are essential to bring in the right ambience — otherwise you might as well be inside. Invest in some well-designed lighting so there's plenty to cook by, but the garden is also brought to life with small pools of light at ground level, uplights and backlighting so it stays a central feature of night-time entertaining.
Rather than building a barbecue up against a wall, newer styles create a freestanding "island" so you can cook in comfort, but easily talk to your guests or even just enjoy looking out at the garden at the same time. It also helps ventilation and keeps hot surfaces away from the house. You can use the space closer to the house for dining, or to locate a spectacular wall feature as a focal point. Large island models have add-on cabinets either inline or at 45 or 90 degrees to incorporate fridges and sinks.
Safety is something you have to consider. Small children and barbecues are accidents waiting to happen, with one quarter of children's burns at home caused by barbecues, and three-year-olds being most at risk. All barbecues, regardless of fuel type, can cause serious injury so they must be constantly supervised, and preferably out of reach.
Choosing the right barbecue is a matter of matching your needs. Starting from a basic two-burner, which is often enough for a couple or small family, gas barbecues can have up to eight burners fuelling a massive 1200mm x 500mm cooking area. Unless you're part of a large extended family that always eats together, or you regularly entertain a crowd, you'll probably find that four burners is plenty.
Direct cooking grills are for steaks, sausages and skewers, and hotplates suit small foods and wetter food like heavily marinaded meats and eggs. Under the grill there are flame tamers, which spread the heat from the burners more evenly and are an important source of the barbecue flavour. Fat drips down onto the hot surface and then vaporises, sending the delicious, smoky flavour back up through the meat. Volcanic rock and ceramic briquettes are still used in some barbecues but they can cause a lot of flare-up from dripping fat, resulting in unpleasantly charred meat. Avoid prodding and piercing the meat while it's cooking to keep more juices in and limit flare problems. Cheaper barbecues have cast-iron flame tamers and grills, with more expensive models using vitreous enamel or stainless steel in the top-line models.
Gas barbecues can come with a wide range of extras. Stir-fry cooking needs a high temperature to get the oil almost smoking, and some barbecues have a special wok burner with a higher heat output (18 rather than 12-14 Mj). If you want to cook a sauce or saute some vegies to go with your barbecue meat, a side burner is useful. A roasting hood over your barbecues allows slow roasting of large joints so that the meat falls off the bone, and you can add to the flavour by using a smoke box containing hickory or applewood chips, or herbs. With a heat-proof glass window you can see what's going on inside without lifting the hood and losing heat.
Natural gas connection takes away all the worry of LPG bottles running out mid-sausage, although you have to sacrifice portability unless you can afford several gas connections. LPG bottles are heavy to lift up into a car boot but you can have a home delivery.
If your barbecue area is very windy, as with coastal homes or some balconies, you'll need to install some windbreak hedging or screens, or look at an electric barbecue. They might not seem the real deal, but they're better than a flame constantly blowing out. Stainless-steel marine barbecues are available in electric versions suitable for 240V home use.
Traditional charcoal kettle barbecues are great for roasts, but take at least 30 minutes to get up to heat so they're not so good for an impromptu occasion. Gas kettle barbecues have come close to replicating the smoky flavours, with a heated flavouriser bar to vaporise meat juices.
Another option is a wood- or charcoal-fired hibachi. This will cost you less than $100 and is the traditional barbecue method for satay. Larger, brazier-type hibachis can do double duty as an outdoor heater. Note that you can't use any wood- or charcoal-burning barbecues on a fire ban day. For a real occasion, you can cook several large joints or a whole beast on a hired charcoal or gas spit, with electric rotisserie, from $60-$90.
Woodfired ovens are a long, slow way of cooking, but there's nothing like them for making a meal a real social event. Pizza, bread, roasts and casseroles can be prepared together and then cooked while everyone relaxes without the distraction of an open barbecue. Use good-quality hardwood like ironbark for a hot, slow-burning fuel. You can choose from more rustic-looking models, either built for you or DIY, or more high-tech-style stainless steel. As woodfired ovens are set high off the ground and the fire is deep inside, they're safer with small children around.
To get best value from your barbecue you need to keep it clean and well maintained. Cheaper barbecues use cast-iron grills, which are fine if they're always protected from the weather so they don't rust. More expensive models have a vitreous enamel coating which is much easier to clean, and the top-of-the-line models are all easy-clean stainless steel. Just as you might keep a special pan in the kitchen for fish, cleaning is important so that strong and distinctive flavours don't contaminate the next meal. Before you buy an expensive model, ask for a cooking — and cleaning demonstration