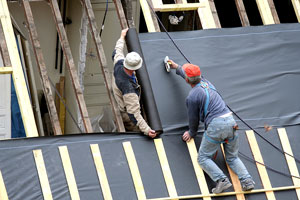 The roof is often the last thing we think about when renovating, but in reality, it should be one of the first. A good roof not only contributes to the overall look of your home, but can also add value while protecting your family from the elements
With the real-estate market a little softer than it has been in the past few years, homeowners are finding that renovating is a more logical and cost-effective option than selling. However, when it comes to renovating, many people in inner-city areas don't have the luxury of extending their home horizontally, so the next option is to extend upwards.
Roof and attic spaces can be turned into any number of practical rooms. Sometimes, these roof extensions can open up views that may not be accessible from lower levels of the home. Your investment in a roof space conversion goes to usable floor space and can add substantial value to your home.
However, you don't have to be extending through your roof to consider this too-often overlooked element of your home. Your roof is paramount — in fact, many might say that your roof is a home's top priority, protecting it.
There are a lot of conflicting opinions about which materials are best for roofs in Australia, so it's worth considering your options. Start by looking at the different types of roofing available. Here's a brief rundown on the various roofing materials available and their features and benefits:
Thatched roofs
In the beginning, there were thatched roofs made of reeds bundled together. However, thatching without other protective techniques will not provide a weatherproof roof.
Shingled roof
Shingles are not widely available today. They are made from either fibrous cement or timber, and both these types of shingles have good insulation properties. However, timber shingles will need to be pre-treated for termites.

Slate roofing
Slate roofing is extremely weatherproof, durable and beautiful. However, it can be very expensive and there are now concrete imitations available that are less expensive.
Tiles
In the home-building boom days of the 1970s and 1980s, the tiled roof well and truly conquered the skyways and our suburbs. There are two main types of tiles: concrete and terracotta. Both are strong, hardwearing and durable, are extremely weather resistant and can handle high wind conditions, though this will always depend on the fixing of the tiles.
Concrete and terracotta tiles provide good thermal insulation in all types of weather, as well as good sound insulation. Roof tiles are quiet when it rains or hails, compared to metal, and make little or no noise when expanding or contracting.
One of the biggest benefits of a tiled roof is that one or two cracked or broken tiles can easily be replaced rather than repairing or replacing the entire roof, making them a cost-effective material over the long term — and if there is one thing a roof needs, it's a long lifespan.
Terracotta tiles
Terracotta roof tiles are the traditional roofing option, providing excellent weather durability, especially in windy conditions, plus they have good insulation properties. Terracotta tiles are slightly heavier than their concrete counterparts, and more expensive.
Concrete tiles
These tiles are strong, colourfast and available in imitations of all other roofing tiles. They have similar features to terracotta tiles, including durability and good insulation, plus they are a cheaper alternative to terracotta tiles.
Metal roofing
Once upon a time, 'tin' roofs were made from a soft galvanised iron that came in short lengths, leaving gaps that could easily become leaky. The humble tin roof was very much the tiled roof's poorer cousin.
The 'tin' roof is now made from Colorbond or Zincalume and has made a huge comeback. It is now made in continuous lengths to banish those horizontal gaps that could become leaks. Another feature that is winning homeowners over is that a metal roof can look good on all styles of architecture, from older-style colonial buildings to stark modern stacks. Metal roofing has a myriad of design options, including curved roofs, pitched roofs, flat roofs and convex roofs. Metal roofing can be easier to install than tiles, plus it's often the best option for flat roofs.
Today's metal roofs are lined with an insulating sarking, which not only stops condensation during cold days, but also dampens the noise of rain hitting the metal, leaving home owners listening to a gentle thrum of rain rather than a raucous thunder.
According to Gino Sirotich, Marketing and Communications Manager for CSR Roofing, there are essentially two aspects to consider when assessing your roof. "Firstly, you need to consider whether the roof is functional. Does it need to be repaired? That means you need to consider the bedding and pointing. The bedding is the mortar that sits under the ridges of tiles, while the pointing goes over the top of the bedding and matches the colour of the tiles. From an aesthetic perspective if you are renovating, you might want to consider if the current style of your tiles match the renovation."
One of the most important considerations when looking at extending your roof is the pitch. "For the most part, most homes today are pitched at around 22.5 degrees," says Sirotich. "Some more contemporary roofs can be shallow in their pitch, heading down to 15 degrees, the lowest tiled roofs should go. In fact, that is the Australian standard — 15 degrees. However, a roofing specialist will be able to advise you on all this.
"Generally, what happens when people renovate is that they put in a whole new roof — so the whole roof looks new. If you consider terracotta tiles, they are far more durable than they used to be — old tiles never had the performance guarantee that they have now. Functionally, to determine whether you need to replace or repair tiles, we always advise contacting a roofing specialist. If you notice stains on the ceiling inside, or if there are broken tiles, torn sarking, missing tiles, or mould in the room, there may be water sitting in the roof, and that can affect mould growth in the house."
ROOF MAINTENANCE
A roof alone represents around five per cent of the total value of your house, so it is important to make the right choices of materials and profiles. It's equally important to protect your roof — as it's protecting your home!
Whether your roof is leaking, you have cracked and damaged tiles, or you simply want to improve the look of your roof, the condition of your current roof will generally determine what renovation work needs to be done.
Restoration is commonly performed on tiled roofs, including re-bedding and re-pointing. It's possible to repair your roof if it is leaking or sagging. For a tiled roof, this usually requires the replacement of cracked or damaged mortar and tiles. For a metal roof, the rusted surfaces will need to be replaced or repaired. Your roof repairer will need to identify the source of the problem and perform repair work to prevent further leaking or sagging.
You may decide to restore your roof to extend its life or improve the appearance of your home. The most expensive option is to replace your old roof, however, the value and benefits you get in return could outweigh this. If you are thinking of going from a tiled roof to a metal roof or vice versa, you will need to talk this over with your roof renovator and weigh up the pros and con, considering your prevailing local weather conditions and the costs involved.