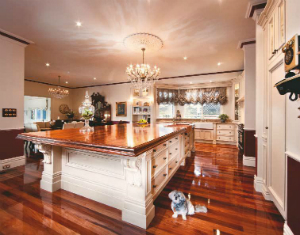 Harris House is synonymous with creating spaces that feature mesmerising timber in its best light.
Why do you love using this material in your work?
We love timber because it gives an elegant and timeless look to a tastefully designed contemporary or traditional interior. Timber allows you to create a convenient and intimate feel throughout the home with bench cornices, specific carvings and timber composition.
What are the benefits of using timber in the kitchen and bathroom?
It ensures style, elegance and sophistication while also offering durability, sturdiness and practicality — all of which are important features to consider in quality finishes.
Do you have any design requirements when working with timber?
We tend to lean towards a more classic look as our dedicated craftspeople spend a lot of time carving detail into the wood to give it a personal touch and matching theme. Using the finest-quality timber and staining the finished timber with a premium-quality product also ensures end results are not going to show wear and tear.
What's the trend at the moment?
A very detailed and classic look is in right now. Clients are after practicality mixed with style to keep aspects of the kitchen neat and tidy, with plenty of space for appliances and cookware. Lots of bench space and room to move are the most popular requests coming through.
What is your favourite timber look?
The Australian timber species oak and jarrah — they look sleek and lend a rustic feel to any design. They are very high in quality and easy to work with.