Whether you want more green space or a place to relax, consider a rooftop garden
Finding space to entertain or simply relax outdoors is not always easy when you live in the city. For those who live in an apartment block, the challenge can be even greater. The solution? Head up to the roof and turn what is often an unused and neglected space into an outdoor oasis.
If you're lucky, you will have uninterrupted views, which was the case with this remarkable rooftop garden, designed and built by Penfold Projects atop the Austin apartments in South Brisbane. While residents enjoy the sunshine, they can drink in views of the adjacent river and the city skyline, feeling connected yet protected from the hustle and bustle.
Standing 20 storeys high and claiming a corner block, Austin apartments, built by CMF Projects for Aria Property Group, was designed to offer the very best in sophisticated inner-city living — and this extends to the rooftop garden.
The brief given to Penfold Projects was to provide an environment for entertaining and relaxing, a space that could cater for all occasions and do it in style and comfort. A swimming pool was considered essential, as were separate zones for cooking, eating and chilling out with friends.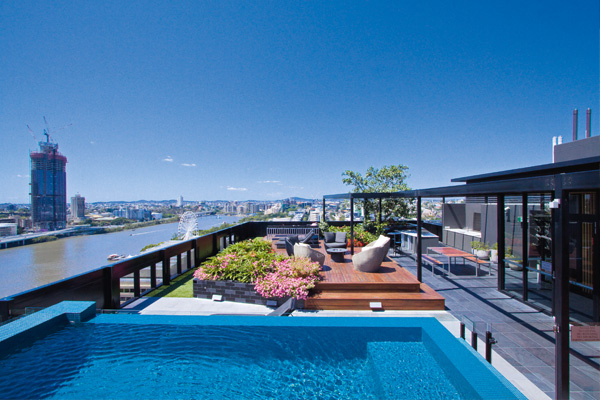 Penfold Projects, in conjunction with the architects, Rothelowman, provided a strategic design which enhances and frames the stunning views, affording residents a variety of vantage points. One is the raised deck. This features a number of different relaxation zones, each defined by a different grouping of furniture.
Raised planters were integrated into the design of the deck, bringing a flourish of foliage and flowers that gladdens the eye and softens the lines of the angular design. The wall in front of the deck features glass panels, which make the rooftop space feel more open and connected to the cityscape beyond.
When residents feel like cooling down or swimming a few laps, they head straight to the elevated infinity-edge pool. A trio of timber burees sit adjacent to the pool. Each shade-giving structure is furnished with a comfortable daybed and curtains that can be drawn when a little privacy is required.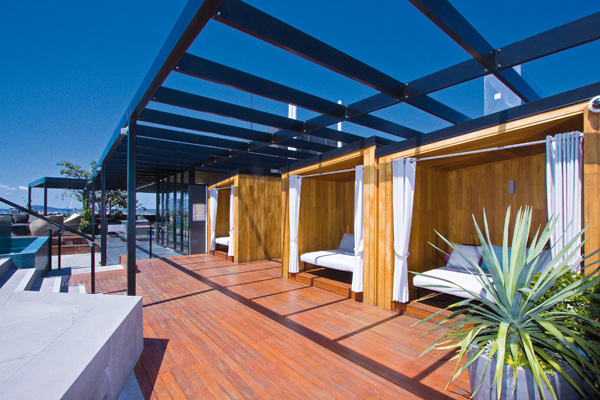 At the other end of the rooftop garden is an outdoor kitchen equipped with a barbecue, sink and ample bench space. Residents can cook a meal and then sit at one of the nearby dining settings, enjoying good company and great views. At night, extensive lighting ensures all outdoor living areas set just the right mood.
The selection of materials was an important element in the project's success. From the mixed-species hardwood decking to the granite paving and the tiled formed-concrete walling, the look is urbane and the materials perfectly suited to life in such an exposed environment.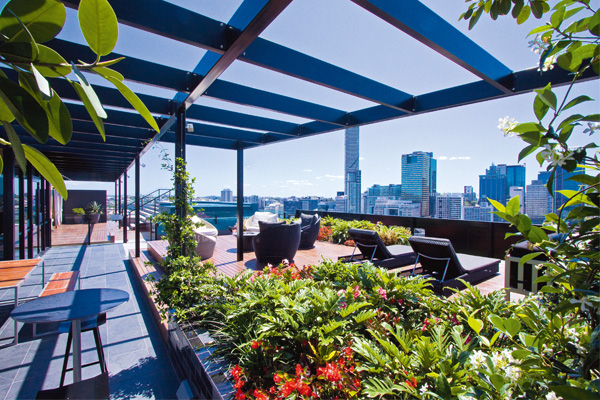 Penfold Projects is a forward-thinking landscape design and construction company with more than 18 years' experience working on innovative residential, commercial and government projects. This multi-award-winning company has a large team of highly qualified professionals who can take your landscaping project from planning stage to completion.
For more information
Penfold Projects
Website: http://penfoldprojects.com.au/
Address: 31 Bishop St,Kelvin Grove Qld 4059, Brisbane, AUS
Phone: 07 3501 4405
Originally in Outdoor Design & Living, Volume 32