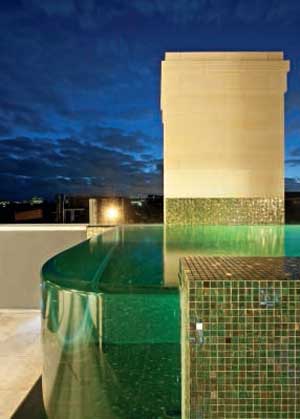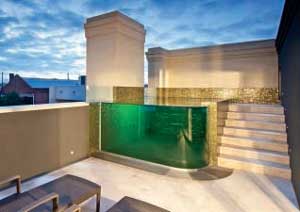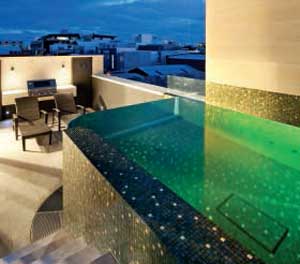 Gold-leaf glass mosaic tiles add a sophisticated finish to this rooftop pool and spa

Words: Danielle Townsend
Photos: Patrick Redmond

This innovative see-through swimming pool claims pride of place on the roof of this three-storey terrace house located on one of Melbourne's bustling inner-city lanes. From the enviable rooftop location, the outdoor entertaining area affords unique views over the city skyline and the pool has been carefully oriented to maximise this.
As with any rooftop project, getting the design right was essential. The owners wanted a spa and pool that could be seamlessly integrated into the entertaining area, be a design focal point and a gathering place for teenage children and it also needed to have a look and feel that complemented their inner-city lifestyle.
Built by Aloha Pools, the pool won three awards at the 2010 SPASA Victoria Awards of Excellence, including Gold for Best Innovative Pool or Spa, Gold for Best Residential Spa and a Highly Commended for Best Residential Courtyard Pool.
Installing the custom-built curved wet-edge perspex wall, which was special-ordered from America, proved something of a challenge. First, it had to be craned into position. Then the matter of the water overflow had to be properly managed. The overflow from the wet-edge wall runs over the perspex into concealed guttering then into a balance tank in the basement carpark three levels below.
Extra time had to be devoted to researching the use of perspex and then coming up with the right design and the right supplier. It was critical that the perspex could retain the water and take the water temperature fluctuations from cool to hot. But the effort was worth it as the perspex gives the illusion of a single block of colour and prevents the pool from dominating the small courtyard-style area.
The project is a visual masterpiece, with Bisazza gold-leaf glass mosaic tiles sourced from Italy cladding the interior of the pool, the coping area and the backdrop. Specific waterproof membranes were required. The gold-leaf Bisazza tiles glisten at dusk and through the night, thanks to LED lighting.
The use of in-floor cleaning systems ensures maximum usage with minimal maintenance, which suits the family's busy lifestyle. In addition, the pool and spa are cleverly designed so no noise is heard — considering the master bedroom is directly below — even when the spa jets are on.
This project is an excellent example of how a beautiful swimming pool can be constructed despite issues posed by a difficult site. The end result is a stylish accompaniment to the sophisticated outdoor entertaining area.