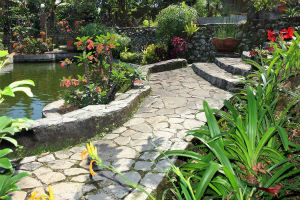 A tropical garden designed not just to be looked at, but lived in
Story: Catherine Stewart, MAILDM, MAIH
Photos: Glenn Weiss
Entering Dennis Hundscheidt's tropical garden in Sunnybank, Brisbane, is like stepping into another world. Gone are the suburban streets and noises, and the bustle of city life seems a million miles away. Rushing water and rustling foliage beckon you into a tropical Balinese paradise.
Starting with his parents' quarter-acre block back in the 1980s, Dennis has since managed to increase his garden to more than 2000m2 but, after taking more than an hour to wander through its nine garden rooms, it seems much larger than that. Lush foliage separates open zones of different sizes — some larger with a more substantial water feature and lawn area and others of a more intimate scale, with just room for a teak bench and you.
Hard surface areas are kept to an absolute minimum to encourage plenty of water penetration into the soil. Pebble paths and pavers set into gravel create textural contrasts as they lead the garden visitor through narrow passageways connecting different garden rooms.
A self-confessed 'plantaholic', Dennis treads the fine line between having a designer's garden and a collector's garden. His love of cordylines shows in a collection of hundreds of different species and cultivars, but an unerring eye puts those different plants together in pleasing combinations, still governed by strong design principles.
Richly coloured foliage plants in red, gold, blue, purple and variegations are planted in striking combinations. Dennis is always on the lookout for new plants, regularly visiting Hawaii and maintaining his own quarantine house so he can import and breed permitted plants.
Dennis' garden is not one you just look at. Living in a garden and being part of it is one of life's greatest pleasures. We all need somewhere we can escape the pressures of daily life, so what could be better than, as Dennis says, "a little piece of paradise" in your own backyard, where going outside feels like a holiday, every day.
Every tropical garden needs to create its own shady, humid environment where the colourful understorey plants can thrive. More than 100 different palms form a protective canopy, their tall, banded trunks forming a rhythm through the garden.
Beneath the canopy, Dennis creates layers of foliage at different heights with some of the more densely planted areas having up to five layers. In other parts of the garden, there is just the canopy and a ground plane layer to give contrasts of mass and more open voids.
A quintessential part of the Balinese tropical style, water brings both sound and movement into the garden. From gentle trickling to rushing fountains, every garden room has its water feature so that the sound continues with you, masking neighbourhood noises and concentrating attention on the surroundings.
Balinese thatched pavilions and archways provide spots of cool shade, frame vistas between garden rooms and add textural contrasts.
Dark lavastone statues, bowls and lanterns are wonderfully set off against the rich green foliage. All imported from Bali, as are the teak benches, the garden ornaments are sometimes very subtle, nestled among foliage but in other garden rooms form a strong focal point.
Over winter the garden maintenance workload is very low, but when the warm weather turns on the plant growing season and his open garden day is coming up (Dennis's garden is part of Australia's Open Garden Scheme), he spends a couple of hours a day trimming, thinning and grooming. Keeping up the organic matter and fertiliser in the soil is also an essential part of a healthy tropical garden because of the density of planting.
While Dennis is lucky to have access to good-quality bore water, he stresses that tropical gardens do not have to rely on lots of water. Many plants such as Cordyline, Philodendron cultivars like 'Xanadu', Liriope, bromeliads, Draecena, frangipani and Tradescantia (syn. Rhoeo) are drought-tolerant, especially when massed together.
Like all good gardens, Dennis' garden is constantly evolving as he experiments with new planting schemes, builds new houses and makes subtle changes that keep his garden on your Open Garden Scheme must-visit list.