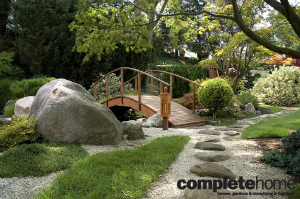 Gardens have no limitations, as Jules Moore discovered when she transformed this small garden space into a tropical Balinese hideaway

Tropical holidays became a thing of the past when Julie Stephens brought back her very own hand-carved Buddha all the way from Bali. Now looking out into her secluded garden, she feels happy to just be at home and not so tempted to holiday elsewhere. This wasn't the case, though, when all she had to look out on was a concrete pad, a tired-looking fence, two dogs and a piece of lawn. Her outside space was uninviting, non-functional and aged.
Keen to replicate what she saw overseas and create her very own tropical garden paradise, perfect for entertaining, with a meditative area for her Buddha, she invited me and my team from Plantet Earth Landscapes to design her something special.
Being that the area was rectangular and long, with the depth at times only three metres, the challenge was not only to accommodate her two large dogs, but to also create a low-maintenance garden, to maximise an area for table and chairs and to also screen out the neighbouring apartments that towered over her property.
Sometimes it's the old adage that good things come in small packages. Because, as the garden design took its course, I sort to not only make the most of a small area, but totally enhance it and bring it to life.
The concrete pad was cleaned up and visually extended by adding large pavers surrounded by a pumice mix for added drainage. This allowed for the inclusion of medium-sized table and chairs with enough room to sit around comfortably.
The long and narrow shape meant unless the design was broken up with different shapes of garden and paving, there would be a danger of it appearing too long and skinny and totally uninviting. As such, a series of raised low boxed gardens, which incorporated a pergola, were built by Tim Bradbury, project manager for Plantet Earth Landscapes. This catered for Julie's love of entertaining and also created a sense of privacy for the garden, with neighbours who could previously look into her garden now screened.
The pergola and fence were painted black and this gave the area an optical illusion of more space. The pergola was also designed so the levels of it stepped down from the higher area to the lower area, with rails blocking out certain windows of the apartment block.
Planting was important, with the homeowner wanting a subtropical feel similar to that of her Balinese holiday. Therefore, plants with an Asian origin, with bold foliage and colour interest all year round, were used. Plants such as Alpinia zerumbet variegata, with scented flowers and bold leaves with yellow markings, and Heliconia subulata, with its brilliant red and yellow flowers, were used. Black bamboo contained in a pot is a feature in one of the garden's corners, with yellow low-clumping Acorus surrounding the Buddha.
A thick layer of weed-free mulch was used, providing continuous humus (as it broke down over a period of time) for the already-rich volcanic soil. This not only completed the look and contributed to the low-maintenance factor, it also aided with evaporation of moisture through the summer months.
Maintenance is now at a minimum, with just some thinning, tip pruning and re-mulching required. Even the dogs have obeyed the laws of natural boundaries, being trained to leave the raised planted beds alone.
With its stylish pergola and planting, the space is now a functional landscape and a success story. By optimising every bit of space, the garden has been transformed into a tropical garden paradise, perfect for entertaining and perfect for secluded meditative moments.
Planet Earth is an award-winning landscape design and construction company. Lead designer Jules Moore has more than 25 years experience as a horticulturist and landscape designer. Jules won Gold and the People's Choice Award at both the 2005 and 2007 Ellerslie International Flower Show.
www.plantetearth.co.nz