This Adelaide garden has a resort-style ambience and space-enhancing layout — all topped off by a show-stopping water feature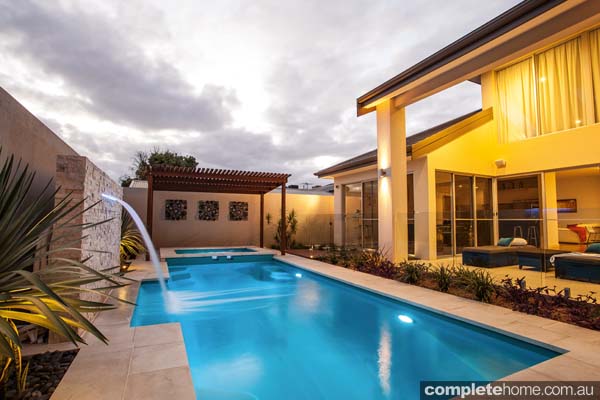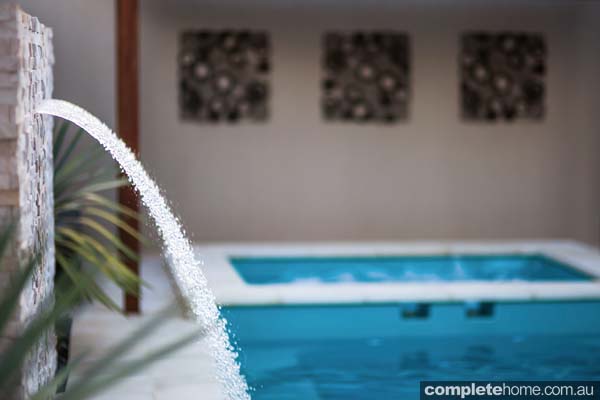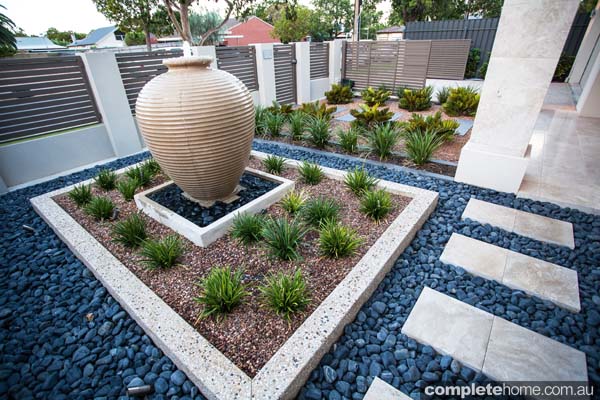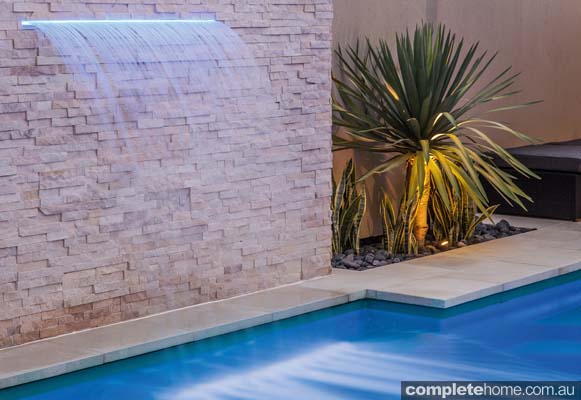 When Josh Hooper of Landscape Techniques first met the owners of this small backyard, with its recently installed swimming pool and spa, they said "we want to feel like we're living in a resort". But they didn't just want Josh to create the right ambience, as important as that was. They had a list of practical requirements, too, including a paved entertaining area, an in-ground 10,000-litre detention tank and a 3m x 4m garden shed.
The entertaining area sits beneath the main roof of the house and has a built-in outdoor kitchen, an entertainment system and comfortable outdoor furniture positioned to take in the view of the pool and spa. There are two deck-style platforms that link the entertaining area with the spa, adding a tropical resort touch.
"To provide year-round protection for the spa, we built a shade structure using laminated merbau timber. This was designed to provide sufficient shade in the summer months yet still allow light in when the owners are enjoying a warm spa on a cold winter's day," says Josh. To separate the shed, services and in-ground tank area from the pool and entertaining area, Landscape Techniques built a 2100mm-high lightweight rendered wall.
Complementing the blue-tiled pool and introducing another resort-style design element, Landscape Techniques built a sheer descent water feature with a backdrop clad in stone. The colour of the cladding works in harmony with the Quartz pavers and Sunset exposed-aggregate concrete, all of which are of a pale hue to increase the feeling of openness in what is a relatively enclosed outdoor space.
The owners also told Josh they wanted to enjoy their outdoor areas at night, so lighting was a crucial part of the landscape design. "With this in mind, we incorporated uplights to highlight the feature dragon's blood trees as well as lighting within the pool and water feature. These lights are able to change colour and are operated by an indoor control panel," says Josh.
The brief for the front garden was to "reflect the area and make it safe and low maintenance … We made the garden secure by creating a rendered pillar and aluminium-slatted fence with automated swinging gates. To make it easy-care, we used low-maintenance plants, pebble mulch and the continued Sunset exposed concrete allows for minimal maintenance throughout the year," says Josh.
The finishing flourish is an urn-shaped water feature that contrasts nicely with the modern front facade and surrounding streetscape.
Project details:
Landscape design and construction by Landscape Techniques 2/20 Ellemsea Circuit, Lonsdale SA 5160
Photography by Mike Hemus
Originally from Outdoor Design & Living magazine, Volume 28