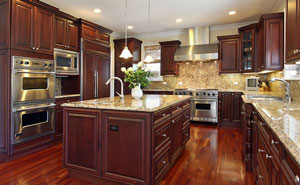 Tudor Doors' stunning showroom is an essential stop for every home renovator

Australian owned, Australian made. Tudor Doors has been manufacturing 'made to measure' solid timber doors for the cabinet making industry since 1986. Tudor Doors hand-selects and colour-matches the finest available timbers to create distinctive cabinet doors that are renowned throughout the industry. They also have over 500 cabinet makers on their database in Victoria and a reputable distributor in South Australia, ensuring the company can accommodate every customer.
At the Tudor Doors showroom, located at 15-17 Westpool Drive, Hallam, you will see an extensive and varied range of timber doors and accessories. The showroom features beautifully appointed kitchens where customers can view a wide range of products from Tudor Doors' stunning solid timber cabinet doors and vinyl-wrap doors, to samples of timber benchtops, Laminex swatches and benchtops, as well as CaesarStone benchtops.
"Many people don't put enough time and research into what could be the most expensive room in the house — the kitchen — and that is why Tudor Doors has extended its showroom hours and customer service to assist customers and cabinetmakers," says Melinda Andrews. "Over the past few months we have found that people have visited from all over the state to select their door profile — it's great to see people take the time to see what there is on offer. At Tudor Doors, we personally hand select each timber, ensuring the best possible colour match and grade is being placed in your doors. Timber is a product that is naturally beautiful but it does have its own identity. Colour and grain matching is a very difficult task and that is why we are the largest timber door manufacturer in Victoria due to the time and care we take."
Tudor Doors is a family owned and run operation, which supports local suppliers and uses the best possible materials to produce a beautiful product that is made from renewable sources, ensuring there is enough timber for future needs while retaining timber forests for wilderness, wildlife and recreation.
Tudor Doors is open 8am–4.30pm Monday to Thursday, 8am–2.30pm Friday and 10am–2pm Saturday. Tudor Doors is represented by Australian Timber Doors in Adelaide, 17 White Road, Gepps Cross, SA. Phone (08) 8349 5930.
FOR MORE INFORMATION 
Contact Tudor Doors, 15-17 Westpool Drive, Hallam.
Phone (03) 9702 4900,
Email sales@tudordoors.com.au, or
Go to www.tudordoors.com.au.