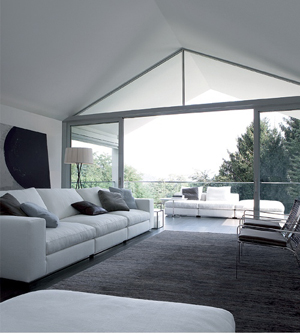 We talk furniture, inspiration and design trends with Fanuli Furniture designer Fabio Fanuli.
"Functional and flexible, with an emphasis on lasting quality and design." – That's how Fanuli Furniture's Fabio Fanuli, who as a child recalls watching his father design furniture, describes his design style. His father started the family business in 1976 when Fabio was just 15 years old and since then it has grown into a well-established business operating in Sydney's lower north shore suburb of Cremorne. "Due to the influence of Fanuli Furniture, I entered the family business where I learnt the design process hands-on and was exposed to a wide range of styles that shaped my taste," Fabio says. From here, he went on to study a private interior design course, becoming familiar with the industry.
There is a shift in furniture design trends, he says, with the current economic climate having a dramatic effect on spending. "People are cocooning with all the talk of the challenging economic times, and as a consequence are moving away from disposable furniture," he explains. Fabio describes his designs as not elaborate, so the overall look is timeless and people do not tire of looking at the pieces in their home.
Design businesses today are having to rethink their designs so the individual pieces are not only practical but environmentally friendly. "As a society, we are more environmentally conscious and looking at ways to preserve our natural resources, so we are using sustainable materials in design," Fabio says. Fanuli Furniture has also adopted this philosophy, taking an eco-conscious approach to sourcing and making its furniture. All pieces are made from sustainable resources, using forestry timbers, and adhere to the strictest European guidelines. Most of the metal furniture is also made from aluminium, which can be recycled. All the furniture polishes used are water-based rather than solvent-based, so they do not harm the environment. "Our furniture's made functional by using only the best materials that will withstand everyday use," Fabio adds.
As far as trends go in Australia, it is the climate that plays a crucial part in shaping the designs we welcome in our homes, says Fabio. We tend to use uncomplicated furniture. "Even our classic pieces are not very ornate and do not use very dark wood and fabric colours, while in contemporary pieces, we tend to use timbers with glass and metal that are warm and not too minimalist," he explains.
Travelling to Italy and taking in its beautiful architecture inspires him to bring some of the Italian flair to Australia. "For the last 33 years, Fanuli Furniture has been successfully importing the timeless classic and contemporary ranges," he says.
Fabio's design influences are far and few between. Admiring designers like Carlo Bartoli and Ruggero Magrini of Kristalia and Eleonora Pozzi of BPA, he constantly surrounds himself with new designs. More and more he finds his clients are looking to local talent to design their furniture as well.
"In contemporary living spaces I'm inspired to use designs that will give the space warmth and even introduce some classic pieces to give character," Fabio says. Whatever space he 'dresses', he enjoys making his clients' homes flexible and sensitive to their style and way of life.
"In classic homes I try not to make them as traditional, as the Australian way of life lends itself to lighter classic pieces. Contemporary pieces can, however, be used in classic settings to give a point of interest," he adds.
The 'in' colour right now for furniture is brown. "It's become the new black," Fabio adds. For him, the use of red, purple and lime is the perfect contrast and some of the textures he loves experimenting with in his designs include gloss polyurethane, wenge, soft woven fabrics with a soft tactile feel, and cherrywood for the classic look. "I look for pieces with good integrity and something that is timeless. When you buy Fanuli, it can be in the family forever," he says.
For more information about Fabio Fanuli, contact Fanuli Furniture on 02 9908 2660 or visit www.fanuli.com
Fabio Fanuli's top 3 furniture trends
1. Living: Sofas are becoming more inviting to sit on and not so firm. They are also deeper so people can curl up in them. Fabrics are becoming more textured and softer to touch. Leather is still popular. Colours are more natural and strong colours are used for accents.

2. Dining: Dining room tables are becoming family focal points and the trend is toward serviceable surfaces. A new surface that has been developed in Italy is Alucompact, a sleek and strong multilayered laminate with aluminium inbetween.

3. Bedroom: We are moving away from mattress and bases and using platform bases with slats that are elevated from the ground. These are much healthier and allow much better air circulation while being lighter looking. The bed surrounds and headboards are either in timber or upholstery.