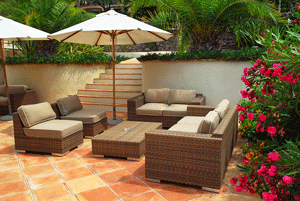 This renovation resulted in a completely rejuvenated house, with twice the living space and a popular outdoor entertaining area

According to Nic Owen, the client's brief originally asked only for the replacement of rotting windows and doors at the rear of the house. "This quickly evolved into renovating and extending the family room and bedroom, creating a large pergola, and a deck which wraps around a much-loved birch tree," he explained. "The final brief included built-in barbecue facilities and clever integrated storage spaces throughout."
According to Owen, before the renovations the rear of the house consisted of a tired, low-quality, rotting, early-'80s timber skillion, which was tacked onto the rear of a good-condition brick-and-tile single-storey Californian Bungalow house.
"Some of the special design considerations included a large, transparent gabled roof for the outdoor space, which was designed to act as a cover from the weather. The new roof enables light to filter through, catch the natural breezes, and hide certain less-desirable elements of the existing rear skillion (and cat enclosure on the existing roof) in a cost-efficient manner.
"The deck as an extension to the living space was designed to fit around a prized birch tree. The integrated tree became a focal point while also creating a good relationship with the landscaped garden. This outside living room also features a joinery unit that encloses a barbecue any chef would be proud of.
"Another design feature is the creation of a flexible floor space in the extended family room. At present, an alcove of the room is used as an open-plan bedroom which overlooks the glass doors and rear garden. The built-in storage and wardrobes are unobtrusive and hidden to enable the function of the room to be adapted if ever needed. The clients love it as it is flexible and furniture and function can be moved around as needed.
"The design was inspired by the simple and cost-efficient gable forms of the existing building while also making the most of the beautiful trees and garden.
"My favourite part of the renovated space is the new 'outdoor room' (deck with pergola over), which offers inside comforts (barbecue, seating, audio and lighting) with the beauty of the outdoors. The glass doors and windows offer a 180-degree view of the landscaped garden.
"An unusual challenge came in the form of a cat named Harvey! The owner has a cat that enjoys roaming about in a cat run/cage that runs up the south of the building and onto the roof. This cage had to be retained and hidden from the rear garden. The cat flap door also had to be hidden from view in the family room. The large, transparent gabled roof pergola hides the cat cage, while the cat flap door has been discreetly located behind the built-in entertainment joinery unit in the family room, out of sight.
According to Nic Owen, "This renovation is special because the client has doubled the size of their living space and enhanced their quality of life with a good outdoor living space in a very cost-efficient manner. While adhering to the client's brief, we have delivered an end result that surpassed their expectations."
The renovation to rear of house included:
• New timber floors (Sydney bluegum)
• New rear and side extension timber walls weatherboard-clad
• New ceiling and plastering
• New insulation
• New doors and window (comfortplus glazing)
• New deck (jarrah)
• New timber pergola with clear lazerlight roofing
• New built-in entertainment unit with integrated Jetmaster gas fireplace
• Built-in barbecue in marine ply-clad joinery unit
• Internal built-in storage (hidden in walls)
• Built-in robe
• External storage cupboard
• Rain water storage tanks
Project particulars
The project was designed by Nic Owen Architects
ADDRESS: 260 Elgin Street, Carlton Vic 3053
PHONE: 03 9347 1140
EMAIL: nicowen@iinet.net.au
WEBSITE: www.nicowenarchitects.com.au
The project was built by: Owner-builder
FLOORING: Kitchen / Family / Bedroom: Sydney bluegum T&G
OUTDOOR: Jarrah timber deck
WALLS: Family / Living / Bedroom: acoustic plasterboard
OUTDOOR: Timber weatherboards paint finish
WINDOWS + EXTERNAL DOORS: Durable timber paint finish externally, stained internally comfortplus glazing
OUTDOOR: Landscaping, decking, shading or paving details: timber pergola, paint finish with clear lazerlite roofing