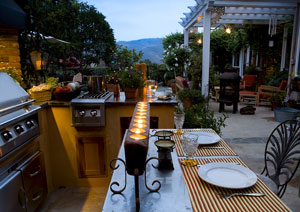 Two traditional Paddington terraces come together seamlessly to create one beautiful home
In Sydney's Paddington, famous for its quaint terraces, this stunning contemporary home was originally two separate terrace houses. According to Rodney Kirk, principal and builder for Rodney Kirk Pty Ltd, "Originally the client wanted to work in one of the terraces and to use the other terrace as a private residence. Eventually the client's business outgrew the terrace house space and the client then instructed us to transform the two terraces into a single, stunning residence. This was done by removing the walls between the properties to ensure the relevant openings and to seamlessly combine the two terraces.
"Specifically, to create this one new space, we removed the cross walls to open up rooms to the front and back of the terraces and then opened the loft area to roof spaces. Two new ensuites and one powder room were added as well as a new laundry, and a new full kitchen was designed and built.
"Other spaces created for the home include a new library and a lounge room to the front of house. A new television room and two new bedrooms including ensuites and walk-in wardrobes as well as a spare bedroom were also added. A combined kitchen and dining and living space were created to the rear of the house that flows out to the terrace area.
"The most specific design consideration of the project was for this home to be a more open space, rather than typical terrace houses. We wanted to create an inner-city home in a terrace that feels like a contemporary open-plan house.
"My favourite part of the renovated space is the outdoor area that runs straight from the back kitchen dining area. One of the more challenging aspects of the design was the decision to build a chimney at the back of the house for design reasons, even though it wasn't to be used.
"This renovation is special because it's a house we have worked on in the past and now it has now reached a point where the client has achieved all her expectations.
"The reaction from the client, public and our other clients has been very positive. Some of our current clients have gone through the house to look at the work and it has also won us some new projects we are busy with. The client has also told us that she is very happy with the outcome."
Project Particulars
The project was built by Rodney Kirk Pty Ltd
Phone: 0418 115 808
Licence number: 15653
The project was designed by Dods & Zuccon Architects Pty Ltd
4 Church Street, Paddington NSW 2021
Phone: 02 9331 3133
Email: architecture@dodsandzuccon.com
FLOORING: Jarrah 270 x 30 recycled timber, limestone tiles
WALLS: Rendered and set walls
AIR-CONDITIONING: Split in-built system — Daiken
KITCHEN: Benchtop: Stainless-steel and timber. Cabinetry: Satin Poly panelled doors and drawers. Rangehood: ???. Cooktop: ???
SANITARY FIXTURES + BATHROOM FITTINGS: Caroma
LIGHTING: Downlights
WINDOWS + EXTERNAL DOORS: Timber
SLYLIGHTS: Velux
LANDSCAPING: Was completed by William Dangar & Associates
DECKING: Jarrah infill to limestone tiles
ENTRANCE PORCH/AWNING: Existing Paddington tiles
FRONT FENCE, PRIVACY SCREENS: NA
GARAGE DOOR: Panel-lift — black — Graham Day Doors