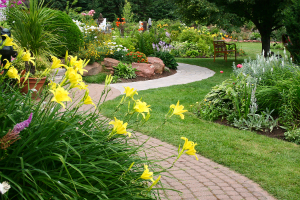 This unique garden combines a modern sensibility with rustic charm
Story: Karen Booth
Photos: Patrick Redmond
Combining rustic and contemporary design elements, this delightfully informal garden has been divided into two rooms, giving the owner, Cheryl, and her two cats plenty of scope for privacy.
The "contemporary" can be seen in the eye-catching water feature, with its backdrop of vivid tiles and its seven simple spouts. Not only is it a lot of fun, it brings colour and sound into the garden. For an additional touch of the modern, the raised garden beds feature a rendered and painted finish.
The "rustic" comes in the form of secondhand red bricks that have been used to cap the garden beds (in the process, creating additional seating) and to pave the rear section of the garden. Theses bricks are a commonly found building material in this part of Melbourne, giving the garden a true sense of place.
"Rustic" also comes in the guise of a timber arbour, which the designer, Christian Jenkins, used to link the two spaces. Says Christian: "The simple timber arbour, perched in the centre of the garden, draws the eye to this point and then beyond, creating a break point in the garden. It also adds height variation to the landscape, which was very important to the design."
Helping to link the two spaces, colourful tiles were used to create a feature wall in the back garden space, which references the water feature in the front space. When designing for small or narrow spaces, Christian advises sticking with light colour tones to create a sense of space. This was the approach he employed in the first garden room where he combined large, irregular-sized off-white concrete paving slabs with river sand. The combination gives the area an air of openness and informality — and the cats just love sand!
Says Christian: "The plants are drought-tolerant and low-maintenance, which goes without saying nowadays. In the front section we combined dwarf sacred bamboo (Nandina domestica 'Nana') with kangaroo paws (Anigozanthos sp.), two maples (Acer palmatum), cordylines (Cordyline 'Red Sensation) and a dwarf variety of lavender in front of the water feature. "In the rear section we used Chinese magnolia (Magnolia × soulangiana) in each corner, bird of paradise (Strelitzia) and an espaliered olive (Olea europaea) as the centrepiece."
Other plants include lemon-scented tea-tree (Leptospermum petersonnii) and a small, clumping lily pilly (Syzygium australe 'Tiny Trev'), which was used as border plant under the two crepe myrtles (Lagerstroemia indica). When the crepe myrtle trees reach maturity, their seasonal display of hot-pink flowers will turn them into a feature of the garden.