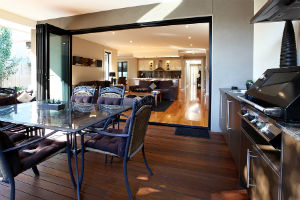 With some innovative thinking it's a case of now you see it, now you don't

Space maximisation is one of the central tenets of good design, especially in urban areas where courtyards and small outdoor spaces seem to be the rule rather than the exception.
A fine example of the two-for-one approach to design, this timber deck converts from a place to dine with friends to a mini pool area — all at the press of a button. Constructed on retractable tracks, the timber cover is operated by remote control. When secured in place, it does more than provide space for entertaining, it minimises evaporation and helps to retain the warmth generated by the pool's gas heating system.
The interior surface of the concrete shell spa-pool is completely clad in shimmering mosaic tiles. It has a constant depth of 1.5m and includes swim spa jets for exercise purposes. Swim jets are a great idea for people who like to swim for exercise but don't have the space for a full-size pool.
At the end furthest away from the house, there is a sheer descent water feature with stainless steel tray, which turns the spa-pool into a mesmerising focal point which can be enjoyed whether you're relaxing in the pool or sitting inside the home and looking out.
Clearly, the overriding challenge was building in such a confined area. As access to the site was via the side of the house only, all materials had to be carried by hand.
As a just reward for their attention to detail and space-maximising efforts, Wright Pools blitzed the Innovative category in the 2007 SPASA NSW Awards of Excellence.
How clever!
Extending from the rear of a contemporary beachside home, this 6m x 5m west-facing courtyard needed to tick several boxes — starting with the inclusion of a spa-plunge pool, which GOOD MANORS residential gardens has seamlessly integrated into the space. Measuring 2.5m x 1.2m, the spa-pool is big enough to be comfortable but small enough not to dominate. For flexibility when entertaining, there is fixed seating and a moveable timber daybed which disappears under a planter when not in use. Lockable when closed, this "mobile" daybed is yet another canny space-saving device, as is the built-in barbecue with its sleek granite benchtop.