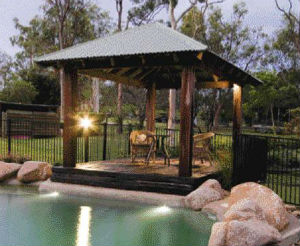 Shelter is necessary if you want to enjoy your outdoor room all year round
Words: Ada Mears
For an outdoor room to be just that, a room, it needs to be made up of the structural elements we typically associate with rooms: a floor, walls and a roof. While the furnishings and decorative items work to give the space style and comfort, it's the structural elements that give an outdoor room its functionality. Roofing, in particular, is an important aspect of outdoor rooms and, regardless of climate, all outdoor rooms will require some level of roofing.
While roofing is crucial in protecting you from the elements, you don't need to compromise on style to achieve functionality. Shade structures can complement your outdoor room while at the same time serving to shield you from prevailing winds, the blazing sun or drizzly damp on a winter's day.
There are many different types of roofing available and you're spoilt for choice when it comes to creating an adequate shelter for your outdoor room. From fixed options such as pergolas and gazebos to the moveable varieties such as umbrellas and shade sails, choosing the right roof for your outdoor room is today a very stylish affair.
An innovative and modern option is an opening or retractable roof, made of louvres that open and close electronically. This type of design is ideal for an outdoor patio-type room that comes straight off the house. Either freestanding or attached, the louvre roof can be built as single sections or multiple sections to cover large areas.
These roofs can also be used for screened enclosures, as privacy screens or over a swimming pool and spa area. And the best thing about them is that the louvre roofs can be left at an angle to either ventilate the area or provide partial shading. They can also rotate through 180 degrees to block out direct sun during summer while at the same time providing sufficient airflow through the roofs.
In winter, the louvres can be turned towards the sun to gain as much winter warmth as required. Natural winter sunlight can bathe outdoor rooms as well as indoor spaces if the louvres are positioned correctly. A rain-sensing unit and wireless remote are optional features.
Louvres are usually manufactured from a special aluminium alloy extrusion designed for maximum strength and rigidity. They're either anodised or powder-coated for longevity and appearance. The aluminium is non-corrodible, making it ideal for outdoor rooms close to the water.
Pergolas and gazebos are two of the most popular types of shade structures for outdoor rooms. Traditionally, pergolas are timber structures that combine trellis and overhead climbing plants to create shade and shelter for outdoor living. But these days the definition is much looser. Steel framing is popular and roofs can be constructed from a variety of materials.
A timber trellis with some climbing plants can give a natural, earthy look to an outdoor room, giving a dappled light effect and adding textural interest to the space. During summer, leafy climbers such as wisteria can provide excellent shade, while in winter the plant's leaves fall, allowing more light in to the space. If you decide on timber for your roof, it's recommended it be properly treated to protect it from the elements. Climber plants can be woven through a lattice roof to create dappled shade. But for a more exotic look, you can go for a thatched roof, which adds an exotic touch to any outdoor room.
Fibreglass and plastic pergola roofs are durable, fairly inexpensive and more permanent compared with other types. Both materials are designed to allow complete light exposure but do a great job keeping rain and harmful UV rays from passing through. Plastic usually comes in lightweight panels of different sizes that can easily be cut down to size if needed. Fibreglass may be a little harder to find but is also a very green alternative. Most fibreglass materials are made by using recycled materials, which helps reduce waste.
Gazebos provide a covered outdoor room away from the house, where you can eat, relax and party with friends. A nicely designed gazebo makes a charming feature and can act as a focal point in your outdoor room.
An arbour is another option when it comes to patio cover ideas. You can build a simple arbour very easily, but another great idea is to have an easy-to-assemble pergola or arbour kit delivered right to your door. Once your arbour is constructed, plant a quick-growing vine so it will create a natural roof for your outdoor room. Be sure to keep the vines trimmed, though, or they'll take over your space.
Shade sails are a popular roofing option for outdoor rooms. Available in a plethora of sizes, shapes, styles and colours, shade sails are usually triangular and can be used to add a modern touch to your outdoor room while providing a functional, weather-resistant solution. Just make sure yours is properly installed so it doesn't literally "sail away" in the wind.
When it comes to roofing materials, there's a plethora of options. Some common choices include bamboo thatch, timber and polycarbonate roofing. Your choice will largely depend on the style of your outdoor room and where it is located. It's also possible to extend your interior roof to cover the outdoor area, thus blurring the line between inside and out and creating the perception of one large space.
With roofing materials, you need to take into consideration the insulation qualities as well as the materials' ability to keep noise in (or out). Some steel roofs, for instance, are thermally efficient and your roofing professional will be able to give you more information about these. Concrete does not conduct heat or cold well, which can help to keep your outdoor room at a steady and comfortable temperature.
Sarking is a reinforced foil material that is laid over the whole area of the roof underneath roof tiles or other roof material. Its purpose is to help keep out any water as well as provide insulation against heat, cold and sound. Steel roofs can accentuate the sound of rain, so if you aren't a big fan of rain noise, it's possible to install an insulation blanket made of foil and glass fibre between the roof frame and the roof material. Again, this blanket insulates against noise and weather.
A steel roof can offer relief from the hot Australian sun but may provide too much shade if you want some sunlight to seep through the roof. In this case, you can try a polycarbonate roof, which comes in clear or can be tinted, making it ideal for areas that need full shelter but also need to maximise the light entering the space while still effectively blocking out UV radiation. However, it, too, can be noisy in the rain.
In addition to material choices, you also have to decide on a colour for your roof. Be aware that a lighter colour will reflect heat better and therefore keep your outdoor room cooler.
Remember, the roofing you choose will greatly impact on the visual aspect of your outdoor room, as well as the usability and functionality of the space. If you take into consideration style, material and colour, your outdoor room won't just look the part — it'll play it, too.