The quality and style of this optimal design are no myth.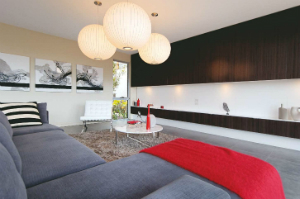 A rectangular aesthetic in both the front façade and floor plan design of Urbayne Homes' Varenna is what allows it to be a perfect fit on a tight block, as well as providing the opportunity for further design potential.
The Varenna has the ability to be altered, extending the rear area if larger living spaces are required or even retracting the design to a smaller version that is perfect for tighter setbacks or small rear yards. In other words, this design can be personalised to suit anyone's needs without compromising its integrity or contemporary style. Even the façade can be changed slightly to suit personal requirements. As a standard, the Varenna features a floating canopy that wraps around the face, providing continuation of balance and articulation. Other exterior features include louvres that divide the bulk at the front from the rear of the house, Colorbond cladding and bricks that have been used to add texture to the façade. Finally, a fire-engine-red door is at the centre of the architecture and becomes an inviting link from the outside in.
The main entrance of this home is quite striking, with an open staircase, floor-to-ceiling windows and reflection pool providing a sense of grandeur. The open view of the reflection pool to numerous rooms including the study and sitting room is contrasted by the way it is separated from the home by glass walls. There is plenty of light through this central part of the home, coming in from both sides for a warm and friendly ambience. Each room of the house has been designed to have natural light coming in from at least two aspects so occupants will never feel closed in. On the ground floor beyond the sitting room, laundry and powder room lies the open-plan living, dining and kitchen area. The large walk-in pantry makes the kitchen in the corner a more functional space that is both easily accessible and practical. The dining and living space function together.
On the one hand they can be treated as completely separate areas for everyday living and on the other, these spaces open up to become one big area for indoor entertaining, leading out to the back courtyard. Meanwhile, back on the first floor at the top of the hardwood timber staircase is an activities room with two bedrooms and centralised bathroom at one end, and the master bedroom equipped with ensuite and walk-in robe at the other. Overall, the Varenna is purpose-built to be a great family home, which has the potential to be personalised to suit any needs. 
For all the fantastic features of this design, it is has a relaxed feel and is yet another great design from Urbayne Homes.
Urbayne Homes,
2/1 Thomas Holmes Street, Maribyrnong VIC 3032.
03 9317 7377 
www.urbaynehomes.com.au/