A Melbourne based designer, Luke Middleton, pushes his designs to be as green as possible.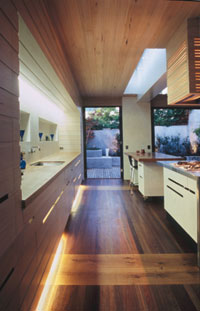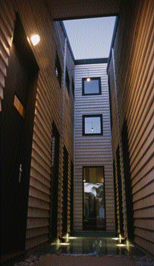 While many designers may talk about ecological principles in design, when put to the test they often do little more than use the odd recycled material in their projects. Melbourne-based designer Luke Middleton flies in the face of this trend. His entire business is dedicated to combining impeccable urban designs with world-leading, environmentally friendly facets. His commitment to this area is so solid and so groundbreaking that a government body, Smart Water Fund, recently provided financing to Middleton to allow him to trial water conservation and recycling concepts at five metropolitan building sites in Melbourne. 
A graduate of London University (BSc Building, Hons Project Management) who undertook further study and teaching at RMIT University (Architecture), Middleton was previously director of award-winning architectural firm,
Brearley Middleton. In 2000 he established EME (Ecologically Motivated Environments) with a group of like-minded professionals eager to explore the potential of ecological and socially sustainable principles in their work. 
Middleton has an impressive array of experience to draw upon, having worked in project management in Australia, the United Kingdom and the Czech Republic. An admirer of clever design from the onset, Middleton's environmental sensibilities have taken his work to the next step in this area, leaving him keen to see all design elements in his projects performing more than one task. (On a more traditional aesthetic level this could mean kitchen transforms into an art gallery at night, rangehood is disguised as a timber lantern or bedroom becomes a catwalk.) 
When it comes to water management, this approach has led to Middleton's incorporation of water tank fit-outs and water-saving fittings. Ever mindful of grace and sophistication in the overall look of a project, the young designer has managed to integrate these systems into striking contemporary designs suited to inner-city and rural residences. His Smart Water Fund grant — an initiative of City West Water, South East Water, Yarra Valley Water Melbourne and DSE — has seen him work on inner-city town houses and coastal family homes alike. 
"EME Group is developing prominent residential buildings across Melbourne that provide fully integrated water conservation and water recycling programs. So far the results have been outstanding," says Middleton. "One demonstration project saves up to 70 per cent on its mains water consumption." 
As we do not actually need drinking-quality water to flush toilets or water gardens, Middleton points out that fitting a tank (and choosing quality water fittings) can reduce the strain on reservoir stores. 
"We can all take positive steps with our daily water usage. By spending a modest amount of money when renovating or building a new home, we can all, in a way, create and control our own personal reservoirs. This gives us more flexibility during water restriction periods, adds value to the home and, more importantly, assists the environment overall." 
Middleton says EME has a proven track record of "recognising the potential that lies in natural energies and the immediate environment. We are also on the continuous lookout for new sustainable products, systems and materials". 
His team is not just interested in water conservation; they also employ techniques of solar orientation and naturally induced ventilation, thus reducing reliance on expensive energy-consuming devices. 
The five projects developed by Middleton and EME include an integrated home and work studio in the inner-city suburb of Prahran, seven townhouses in the medium-density bayside suburb of Brighton, a coastal holiday retreat on the Mornington Peninsula and a family resort in Black Rock. 
A variety of solutions in terms of water-tank styles and fitting methods were employed in the homes. These included a fibreglass tank submerged under a timber deck, a tank used as a sculptural feature, plus a 15,000-litre underground tank to service a pool and spa area, landscaped gardens and flushing toilets. 
"There is a wide range of tanks available to suit just about any situation," explains Middleton. "These range from traditional corrugated through to fibreglass (designed not to be seen). These tanks can be concealed in a new home, extension or existing home for sites with restricted space. They can also be incorporated in the landscaping as a sculptural feature." 
As EME does so much design work in inner-city suburbs, Middleton knew he would have to come up with highly creative solutions that considered available space, cost and the overall design of a home when introducing the tanks. He also sourced AAAA-rated water-saving devices for the homes, further increasing the water savings. 
One of Middleton's key objectives was to take the message of water conservation to a demographic that is trend conscious and may traditionally spend income on high-tech gadgets, kitchen appliances and imported furniture. He suggests "water tanks as the new urban accoutrement". 
"Each of the five projects we undertook will appeal to a different demographic, from homeowners wanting to renovate or build their dream home to developers looking for an opportunity to develop medium-to-high-density projects," says Middleton. "The ultimate aim, however, is the same with each one; showing a home of the future which is stylish, flexible, multi-functional, healthy and able to conserve our precious natural resources." 
"The project has demonstrated that water tanks can play a huge role in reducing the consumption of water from the mains system," says Smart Water Fund manager Chris Lee. "In our view, the successful integration of water storage and circulation devices to allow re-use [of resources] within the house represents the way of the future," he adds. 
The Victorian Government is determined to have all new apartments and homes achieve a five-star energy rating from July of this year.