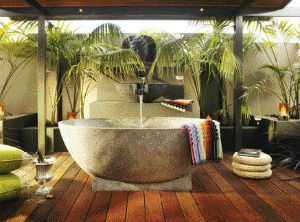 Offering a holiday-at-home lifestyle, this Perth property is a joy to behold
Can you imagine anything more deliciously decadent than bathing alfresco, surrounded by tropical foliage? Or how about dining under the glow of ambient lighting, your view a lush landscape that conjures memories of your last tropical holiday? Well, with this Perth home, you don't have to use your imagination because every day brings with it an opportunity to enjoy a resort-style holiday experience, thanks to the abundance of outdoor room-style entertaining spaces and the lush landscaping.
This luxurious landscape is an excellent example of the stunning results that can be achieved when a landscape designer works in tandem with the home developer, in this instance, Dale Alcock Homes. By planning the home and garden together you can ensure an easy flow between indoor and outdoor spaces, which is exactly what Chris Moore of Landscapes W.A. has achieved here.
"The developer wanted to create a 'holiday feel at home atmosphere' and this landscape was designed with this in mind," explains Chris. "We achieved the required resort-style ambience and lifestyle emphasis by opening the indoor living areas to the outdoor living areas and by using a well-considered blend of materials in the outdoor spaces that complements the interior design. By doing this, and using colour judiciously, we have been able to create a landscape and a series of outdoor room spaces with a relaxed feel that makes every day seem like a holiday."
The design of both the home and landscape offers myriad places to relax and enjoy the best of outdoor living, including the outdoor bathroom off the master bedroom ensuite, a spacious deck for dining and a covered alfresco area for lounging and conversation.
The goal was to achieve a lush resort look while adhering to water-wise principles. This was accomplished by having a limited lawn area, the clever selection of plants and the installation of a dual-program drip-line irrigation system with rain sensor. Among the plants you will spy as you wonder around the garden are Xanthorrhoea preissii (a grass tree native to Western Australia), Cordyline 'Sundance' and 'Red Fountain' and yuccas, all used as feature plants. You will also find, among others, kangaroo paws, star jasmine, Lomandra 'Katrinus Deluxe', Dianella 'Utopia' and 'Little Jess', native iris, Ceanothus 'Blue', Pittosporum 'Screen Master', and kentia palms for that tropical resort touch.
These plants all work in harmony with the paving, a mix of exposed aggregate, river stones and natural Carnarvon stone, as well the masonry walls with their feature limestone rubble rendering.
By working closely with the developer, Dale Alcock Homes, and using a clever mix of materials, products, plants and colours, Landscapes W.A. has taken a large corner block and turned it into a lush and private resort-style landscape that offers endless intrigue and a series of outdoor rooms that make this property an entertainer's dream.
Project details
Landscape design and construction by Landscapes W.A. Phone (08) 9209 3385 Email all@landscapeswa.com.au Website www.landscapeswa.com.au
House design and construction by Dale Alcock Homes Website www.dalealcock.com.au