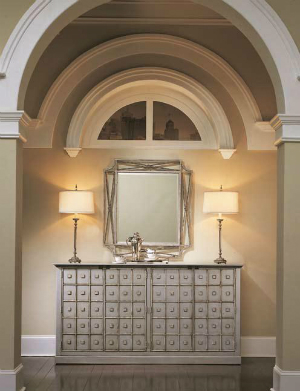 Dulux's annual colour journey across the globe by the Dulux Colour Forecast team incorporates design shows, social, cultural and environmental trend forecasts, and personal interviews with leading worldwide experts from a variety of style, design and architecture backgrounds. According to Andrea Lucena-Orr, Dulux's colour forecaster, "The mood of the world undeniably influences our colour selections. The need for a renewed reassurance, harmony and tranquillity in an unstable economic climate are mirrored by the desire for freedom, revival and bold abandon. "The spectrum of yellow tones spans from bold, bright sunshine and canary yellows which spell optimism, renewed vitality and revival, to deep, reassuring mustards and natural, earthy oranges. Nostalgic creamier tones evoke comforting images of history and the past while light and lemony hues create a feeling of space and freedom from the confines of daily struggles." Elisabeth Condemine, founder and CEO of Paris company, Colour & Marketing, concurs: "Yellow is making a comeback after 20 years of being unfashionable. It's a response to the economy and one crisis after another." Elisabeth also believes the economic crisis is good for the home. "This isn't about hiding from your social life, but instead of spending money in restaurants, people are cooking for friends and family at home. The biggest social phenomenon in France at the moment is the open table every week, or huge picnics where people SMS a place to share food with friends or even strangers," she says. Award-winning UK interior stylist Marissa Daly from Homes & Gardens Magazine, UK, considers Spain as one of the greatest sources of colour influence across Europe at the moment. "There is a huge resurgence in Spanish handicrafts and traditions as well as contemporary design. The country has produced some of the most influential designers and architects of our era, such as Patricia Urquiola and Paola Navone." The latest Dulux Colour Forecast incorporates key Intergrain timber colours, Dulux Powder Coating colours and textures from the new Dulux Design Collection. Revive Sustainability, environmental care, re-use and recycling are part and parcel of the way we live today. The future is all about finding better ways to protect and care for our world and its resources. This colour palette reflects our fresh mindset and new ways to re-use materials once considered waste. We can continually question how things are currently done and revisit the way our parents and grandparents used products and materials more wisely. Restore energy and create new life with colours such as Deduction, Spring Fever and Forest View. FABRIC &
WALLCOVERINGS:
No two rooms need ever look the same now thanks to the wide choice of colours, patterns and weaves available. Wallpaper is such an easy way to create a new look; you could re-paper every year or two to freshen up your home. And the mural is back! There are also wonderful fabrics available for everything from sofas and chairs to curtains, blinds, cushions, bedspreads, lamp shades and any other surface you care to cover. Here's our pick from Europe's latest designs
Eijffinger's latest wallpaper releases include three collections: Carte Blanche, Mystic and Nuance. They range from natural colours to elegant motifs such as lace patterns, graphic texts and sophisticated stripes from Carte Blanche. Mystic features contemporary and colourful designs inspired by different fabric patterns and weaves, including magic hand-knotted Persian carpet designs, diagonal stripes, shiny metallic finishes and large pixel-based flower ornaments. Nuance sees the return of the mural — colours combine with a variety of designs to create atmosphere in shiny and matt tones.
Nina Campbell's Paradiso fabric and wallpaper collections take inspiration from Dante's poetry and Renaissance Florence. The elegant fabric designs include a magnificent bird of paradise, bouquets of roses in full bloom, a large-scale scrolling paisley, and beautiful embroidered damask. A collection of small-scale co-ordinating woven fabrics feature a delicate all-over leaf trail, and a textured interlocking lozenge. The wonderfully diverse Paradiso wallpapers range from the bird of paradise and rose designs to a dramatic embossed wallpaper with a metallic print texture.
Signature Prints releases Arabian Birds by Florence Broadhurst for the first time in January, 2011. This design is printed on their new-generation wall covering Optilux. "Our commitment to improving environmental standards in wall coverings can now be seen in this 100 per cent recyclable base," said David Lennie, CEO of Signature Prints. "Arabian Birds is beautifully coloured in Spearmint, Daffodil, Charcoal and China White on champagne and black Optilux. This mosaic motif is striking and opulent. Arabian Birds Keyline featured alone is also available and provides a strong graphic alternative. "This design, able to be used in two very distinctive and individual ways, demonstrates both the depth and versatility of this wonderful Australian resource," comments Helen Lennie. "We have spent two years developing a new-generation paper. To celebrate its release we choose this elaborate four-colour design."
From Osborne & Little, Alderney features a wonderful variety of linens in neutral tones, ecru and white. The collection includes wide-width soft tumbled plains, a smart semisheer with a sparkling metallic pin-stripe and a waterproof shower linen — perfect for bathroom and spa use. Maharani is a fresh and contemporary print collection, featuring exuberant pomegranates, painterly birds, an exotic damask, a bold stripe and a striking isometric cube design. A modern palette of refreshing colours such as Mediterranean blues, Palm Beach yellows, greens and oranges, and combinations of chalky greys mixed with chartreuse and teal or bright pink, has been used.
Marimekko is known the world over for bright and colourful designs on anything from soft furnishings to clothes and bags. It is a brand Australians know and trust from the '50s and '60s — but it is really a brand perfectly built for 2010 and beyond. The company's design roots are built on a unique fusion of Scandinavian and Slavic influences and it is for this reason Marimekko's distinctive Finnish designs have always been so rare and surprising. Marimekko stands apart with prints that are considered to live in their own design genre. They are the type of bold graphics that have always been responded to well by architects and designers. In order to continue its strong tradition of innovation, Marimekko actively fosters young design talent in its ranks. Since inception it has been part of the company philosophy to foster young talent and this continues today. New ranges for spring/ summer 2010/2011 in Australia include designs from one such designer, Sami Ruotsalainen. Sami is just 28 years old with an education and background in ceramics. He has been working for Marimekko for about 10 years and enjoying huge success.
Essence is a captivating collection of printed stories beautifully expressed on natural cotton to mix and match for a contemporary look with a traditional feel. Ipanema relies on the natural charm of washed linens and cottons to create softness, texture and depth. The neutral palette allows you to mix and match to suit your own eclectic style.