Custom-made splashbacks to enhance your kitchen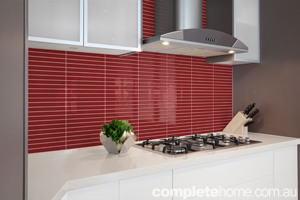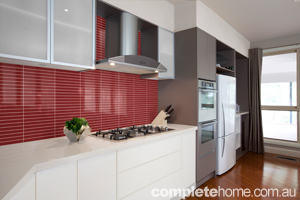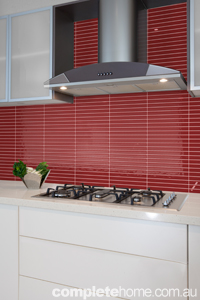 Made with Italian Murano glass, a splashback from Southern Cross Splashbacks is a great way to infuse your kitchen with contemporary colour and style.
Offered in a comprehensive range of stunning colours, the connectable surfaces add a designer edge to any home. The splashbacks are light-reflective and easy to clean thanks to 100 per cent stain-proof grout. They only require hot, soapy water for maintenance, so no more harsh chemicals in the cleaning cupboard. Featured is the Matrix splashback in Lipstick, one of 70 colours to choose from, in format 12.
The watery-looking surface allows light to illuminate colour from beneath the glass. The spectrum of colours available includes rich reds, an uplifting orange, lively greens, punchy greys, neutrals and a rich black. With interactive design tools to help you envisage your new kitchen space, the Southern Cross Splashbacks website is a good place to start your research.
The site offers a product visualiser, a seven-step selection tool to aid your design process. For a more hands-on experience, the company's Mulgrave showroom exhibits the full product range, with helpful staff on-hand to guide your selections. Southern Cross Splashbacks prides itself on producing high-quality, beautiful glass splashbacks.
All products are made to order in Mulgrave, Victoria, with short lead times, prompt delivery and a full installation service is available.
Designer details
Southern Cross Splashbacks
28 Dunlop Road, Mulgrave Vic 3170
Phone (03) 9535 5252
Email info@scsplashbacks.com
Website www.southerncrosssplashbacks.com
Open 8.30am to 5.30pm Monday to Saturday