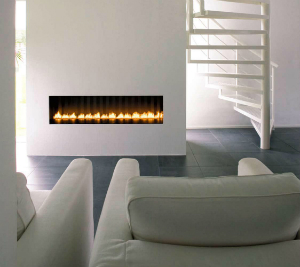 The fine art of heating
The 2010 collection of gas log heaters from Australian heating specialist, Cannon, delivers the beauty, warmth, atmosphere and romance of a real flickering log fire without the work. Designed by local craftsmen with Australian conditions in mind, the new-look Cannon heaters operate economically to suit large living spaces and best of all, can be installed almost anywhere in the home with minimal effort and expense. Featuring two ranges — the Canterbury and Fitzroy — the 2010 Cannon gas log heaters are a "blank canvas" due to the total flexibility and versatility the collection offers. Home makers can custom build their heater to suit their exact requirements, choosing from options such as remote thermostat controls, mesh or glass fronts, stainless-steel internal panels (for an enhanced flame effect) and a metallic black enamel or platinum finish. Stunning designs set the new Cannon range apart. Canterbury heaters are characterised by traditional curves — an elegant addition to any home — while the contemporary Fitzroy units embody a more angular and stylish form, now popular in modern Australian homes. The range resonates both beauty and authenticity. The enhanced flame view brings the expertly sculpted logs to life and has been maximised to make the heater a feature of the home. A significant innovation in the collection is the Fitzroy's Powerflue, which can vent up, down and horizontally out the back, making it the perfect solution for heating as it can be installed on an external wall, even in multi-storey dwellings, and has an impressive 5.05-star energy rating. All other models in the collection can be installed in a variety of spaces with ease — whether replacing an existing heater or fireplace, being built into a timber or plasterboard wall, or used as a standalone unit. Safety has also been a major consideration in the design of the heaters, with all models fitted with either a double-glazed glass window or a protective mesh guard, which ensures all family members are protected. Cannon's 2010 gas log heaters are also ideal for the environmentally conscious, with both the Fitzroy and Canterbury units boasting a 4.06-star energy rating. These high star efficiency ratings are made possible by design elements such as heat exchange technology and controlled heat and fan settings, which ensure the heater works as efficiently as possible. These heaters are designed and built in Australia specifically for Australian conditions and range from compact urban residencies to lofty warehouse spaces or classically furnished rustic abodes. Cannon gas log heaters are manufactured and distributed by Sampford IXL and available from specialist appliance retailers nationwide. Prices start at $2999.
Entertaining made easy
Entertaining has become easier with the Coonara Fire Pit. With its stylish looks and realistic flame pattern, the Coonara Fire Pit will keep you warm, cosy and relaxed as you enjoy its ambience. With the push of a button, you'll love watching the flames burning over the pit to provide a real open fire effect. The Coonara Fire Pit is approved for both natural gas and LPG and is available in three stylish colours: stainless steel, Rivergum and Notre Dame. It includes a matching lid so your outdoor unit can be conveniently transformed into a table when the fire is not in use. The Coonara pedigree of innovation has created something special so that you can now entertain outdoors with friends and family long into the evening.