The architectural firm that designed The Watercube for the Beijing Olympics has turned its artistic attention to Sydney apartments with water views.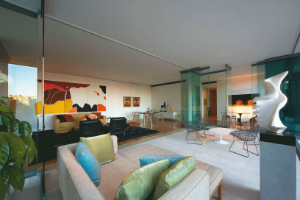 PTW (formerly known as Peddle Thorp & Walker) has designed what some believe to be the finest apartments ever built in Elizabeth Bay. Onslow is at the junction of Billyard and Onslow Avenues, and captures sparkling views over Rushcutters Bay and Darling Point out to Sydney Heads. Onslow is destined to become the latest landmark building in Elizabeth Bay's rich architectural history. It stands proudly in what were once the grounds of Elizabeth Bay House, which was completed in 1838 and regarded as "the finest house in the colony".
The new six-storey building overlooks the famous Sydney mansion, Boomerang, built by the Albert family in the 1920s as a Hollywood-meets-Moroccan-fantasy, and the iconic apartment buildings Del Rio and Kingsclere. On its doorstep is Arthur McElhone Reserve, an emeraldgreen park with a tranquil pond complete with decorative fish. Onslow has been designed by Andrew Andersons of PTW to escape the pitfalls of passing fashion and stand the architectural test of time. "Our aim was to embody some of the qualities of Elizabeth Bay House as far as was possible in a contemporary apartment building," said Andrew, a principal director of PTW. "The colonnade, with its load-bearing granite columns, provides a contemporary reference to classicism, which is all about symmetry, proportion and order." 
The project has been developed by Hindmarsh, a company with around $1 billion worth of projects underway across Australia, which is intent on expanding its sphere of influence in Sydney. Its nine apartments can more aptly be described as grand residences. "This is our first residential building in Sydney and is our benchmark development," said Hindmarsh's project manager Tony Henderson. "We had the opportunity to build 20 apartments here but the site was crying out for something special. It is such a serene spot, with no through traffic, yet it is just minutes from the café culture of Potts Point and an array of specialty shops, theatres and galleries. "Living here should guarantee that you'll never be bored." Unlike some developers who are less design-focused, Hindmarsh refuses to compromise on quality and believes larger, European-style apartments are what the upper end of the Sydney market desires. That's why it took its time to create an iconic building that does justice to its historic surroundings.
"Our apartments are spacious, elegant and comfortable — real homes, not like standard Sydney units," said Tony. This spaciousness is aided by ceilings that are 3.1m high (almost one-quarter higher than conventional Sydney apartments) which allowed PTW to design classically proportioned rooms with expansive walls to accommodate major works of art. "One of the problems with many luxury apartments these days is that their low ceiling heights cause ill-proportioned rooms," Andrew said. The interiors at Onslow are by George Freedman and Ralph Rembel, who liken them to the formality found in 19th-century Paris and Vienna apartments. They comprise a palette of the world's finest materials, including wide floorboards in American oak, book-matched chestnut joinery, full-height timber-panelled walls, and fireplaces with Pietra Rossa marble surrounds. "The finishes reflect a timelessness not defined by a movement or style," said George. "The formality of Elizabeth Bay House has been inspirational in our translation of atmosphere and order into a contemporary environment." 
Each apartment opens into a stately vestibule which leads to the formal living spaces and a north-east-facing wintergarden. "The wintergarden acts as a climatic buffer zone," said Tony. "The glass doors can slide back, giving residents an adaptable space; open them partially to gain the harbour breeze; open them fully to create an outdoor area; or keep them closed to maintain comfort and privacy." Bedrooms have external shutters on windows which can be controlled remotely. Where privacy is an issue, certain windows have been given an opaque shroud, or fitted with angled exterior blades, ensuring residents can see out without being seen. Kitchens are a mixture of practicality and opulence, with thick marble benchtops and stainless-steel Miele appliances. Some even have a butler's pantry and a separate preparation area for catering purposes. Several of the walk-in dressing chambers are so vast they should be described as drive-ins, while the laundry and ironing rooms (with their stone and marble touches) are more luxurious than the average kitchen. 
Most rooms are orientated to the north-east, with floor-to-ceiling windows providing sparkling views over Rushcutters Bay and Darling Point out to Sydney Heads. Balconies are integrated into the building line to ensure maximum protection from the elements. The most jaw-dropping of all the apartments takes up the entire fifth floor. It has four bedrooms, each with its own lavish ensuite. These bathrooms have large-scale slabs of veined white marble in such abundance that you'd be forgiven for thinking you'd stumbled into a Roman bathhouse. This premium apartment, which has interiors of 429 square metres plus a 110-square-metre terrace, also has three parking spaces. The lobby at Onslow is equally stunning, with stone paving and a reflecting pool in silver ceramic mosaic tiles. Everything about the building is over-specified, ensuring acoustic excellence and whisperquiet interiors. "The serenity here makes it hard to comprehend that we're on the edge of Sydney's most vibrant precinct," said Tim Rees of CBRE Residential. "Property in Elizabeth Bay is always in demand but opportunities are scarce. Even rarer is a building of such distinction and quality." 
The nine apartments are either half-floors or full floors and five have already sold off-the-plan. With one of the remaining apartments tipped to fetch around $15 million, one can only imagine the lifestyle that awaits its future resident.
Contact PTW today for a luxury solution,
Level 13, 9 Castlereagh St, Sydney NSW 2000. 
02 9232 5877  
info@ptw.com.au