Exquisite pieces that are 'out of this world' were the perfect flourishes for this special waterfront retreat.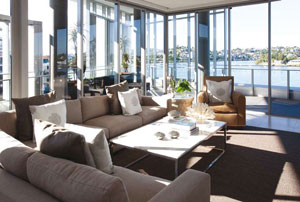 At the Newstead development in Brisbane you'll find a newly furnished penthouse display that oozes exquisite style and seamless design. The beauty of the finished product is no doubt a testament to the skill of interior designer Tonie Robertson from Robertsons Furniture and Interior Design. The spacious 510sqm Pier penthouse by Mirvac features four bedrooms and bathrooms, two living areas and a study. Perched five levels up, it boasts stunning views and is filled with vibrant natural light. When Tonie first saw the new penthouse, she instantly knew that one-off pieces sourced from overseas would allow the space to really shine. "For such a special penthouse, with the most up-to-date finishes and architecture, I went on a mission to find items that were 'out of this world", she says.
It was in the US that Tonie's ideas for the penthouse came to life. Here, she collected standout pieces, and sourced an array of beautiful furnishings from international designers. Soft taupe, pewter and beige were the foundations for the interior which, when combined, create a timeless blend of classic and contemporary style. This palette also makes the most of the home's clean lines and architectural design. The way Tonie has manipulated texture and pattern to successfully come together in a harmonious space is the outstanding feature of this design. The attention to detail is a masterstroke as seen in the living rooms. Tonie brought to life a soothing and neutral interior in the living zones to complement the external natural environment of breathtaking water views. Sleek lines and simple design make the chef's corner a true delight. With ample storage space and benchtop surface, it's a dream area for any aspiring cook. The master bedroom is a mix of inspired patterns and furniture in rich coffee colours and soothing creams. Individually, they're unique one-off pieces but, with Tonie's guidance, they harmoniously come together to take this space to another level. It's a haven for rest and relaxation and is complemented by the convenience and ease of a relaxing ensuite bathroom in a soft and fresh palette.
With its calm and inviting warmth the penthouse is easy to fall in love with. "It will suit any discerning high-end buyer looking for something extraordinary in a home," says Tonie. "Many people tend to travel these days and it's a perfect base of luxury, liveability and accessibility." The dwelling epitomises modern-day luxury and successfully balances an inviting and homely sense while still being at the forefront of interior design.