Use water to heat your home. A specialist in the field of hydronic heating, Nigel Hunt of Melbourne-based H2O Heating, explains how one concept can make all the difference in your bathroom.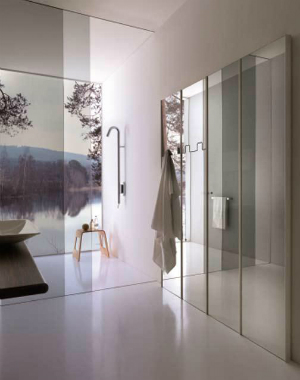 What is hydronic heating? 
Hydronic heating is simply the use of water to heat your home. A central boiler heats the water, which is circulated throughout the building via a network of pipes to an outlet. An outlet can be a radiator panel (whether traditional or modern in design), in-floor trench convector, in-slab floor coil, or a combination of outlet types, making a hydronic heating system extremely flexible.
What are some of the benefits of this heating method?
Hydronic heating is one of the most energy-efficient ways to heat your home. A new hydronic heating system costs significantly less to run than a ducted gas system — around 20 per cent for homes with 2.7m ceilings. For homes with higher ceilings this saving increases to around 40 to 50 per cent. This way of heating can be easily zoned. That means the ability to independently control the heat requirements of each individual room to suit your family's needs increases the efficiency and effectiveness of the system, and also reduces your fuel bills. Hydronic heating is clean and healthy. It does not force air around the home and therefore eliminates the creation of a dry, humid or dust-filled environment that often triggers asthma and allergies. Hydronic heating is versatile; it lends itself equally to period renovations and cuttingedge architectural homes and can be fitted to both existing and new homes. It offers great flexibility in that it can be extended or altered at anytime to meet your future requirements.
Hydronic heating seems to be ticking all the boxes but is it the right choice for heating the bathroom?
Hydronic heating is ideal for heating your bathroom as it will heat the entire room space using both radiated and convected heat. This produces an even and constantly warm environment that is important in this room especially as it can eliminate those hot spot areas that a ducted heating system can sometimes create.
Do you have advice for anyone designing or renovating a bathroom?
Yes! Include a towel rail in the bathroom when you are designing your heating system. Once you have experienced the sumptuous feeling of a warm towel after you have had a bath or shower, you will realise why the towel rail is an important feature in a hydronic heating system. H2O Heating's designer range of towel rails helps to create a contemporary finish, with the range's clean, uncomplicated lines combining function and form.
What trends have you noticed lately?
Hydronic heating comes in various forms, from visible radiator panels to no visual panels, the use of trench convectors or the discreet in-slab floor coil system. Traditionally, when choosing a radiator hydronic heating system, the choice of panels was severely limited. However, new, innovative designs has meant a radiator panel can truly be a style statement as well as a functional, efficient heating source. The cast-iron radiator is best suited to the period renovation as it emulates the style and elegance of a past era. A towel rail, which is classed as a radiator, is a great way of combining style and practicality. It works to provide heat to your bathroom, warming your towels and creating an eye-catching feature at the same time. Another popular method of hydronic heating is the use of trench convectors. While this is suitable for most properties, it is extremely useful for rooms with large expanses of glass, such as large bi-fold doors or floor-to-ceiling glass. Trench convectors maintain a room's aesthetics through the use of an elegant floor grille while providing an efficient optimal heating output.