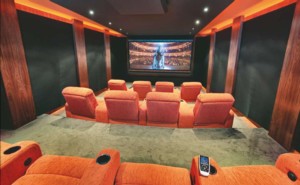 Had this home been built in the 1980s, it would have been the stuff of a science fiction novel. Today, at the touch of a button we can access communication, entertainment — all in one comprehensive automation system.
This client was interested in sourcing an integration company that could deliver a solution covering all aspects of home technology. The brief was for a 12-seat cinema complete with swimming pool viewing window. To find a company that could design, manufacture, install and commission the entire project was a genuine surprise to the client. Having installed home integration systems for decades, the team at Evolved Living had extensive experience in creating a technologically and aesthetically superior result. The project covered a structured cabling system which would form the backbone of a multi-room and audio/ video, surround system, cinema, intelligent lighting system, access control, security, surveillance, and phone and Internet access. A central enclosure in the basement houses the Internet and storage devices, allowing the streaming of music, TV and video from all rooms.
The home's dining, alfresco, study and lounge, pool, gym, roof terrace, master bedroom, ensuite and bedrooms two to four were all equipped with the multi-room AV system, some with TVs and all with in-ceiling speakers. A wall-mounted, colour touch screen in each area controlled the AV devices with a simple one-button touch. With family fun in mind, the family room features 12 comfortable motorised recliners complete with hidden in-wall surround-sound-effect speakers for a truly cinematic experience. Acoustically, sheer fabric panels mask the speakers for an unobtrusive finish. American walnut columns adorn the space with a warm and luxurious touch. Lighting is fully automated with the Phillips Dynalite system. This technology also controls the blinds and security, with simple touches such as auto-off alarm and auto-on lighting for a welcome home scene. Remote keyless entry also ensures easy living, with the video system connected to the phone at the front entry gate. A highlight of the project is the cinema's swimming pool viewing window. The room required careful design consideration, with the wall panels and columns gently angled for acoustic balance and a decorative touch. As with all operational functions, lighting in the theatre was cleverly concealed to highlight steps, columns and the large ceiling coffer. In true theatrical style, the lights dim from front to rear as the movie begins, while a motorised blind rolls over the pool window for optimal viewing.
This technologically savvy home boasts unparalleled convenience, entertainment and security.