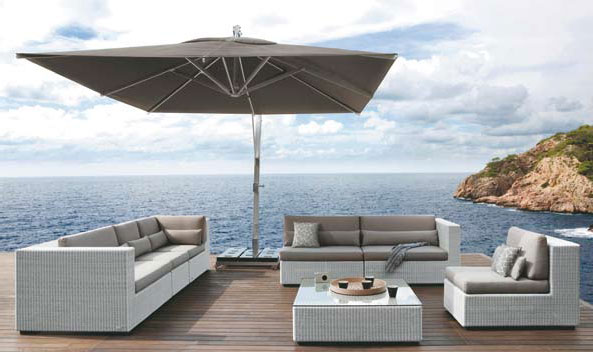 Lush Eden
A lifetime of green design experience has left Peter Nixon with the essential knowledge for matching plants to the growing conditions of your garden. From design to project management, he understands the importance of establishing a landscaped space to get the most of your garden. Here he shares his best tips for creating a unique space that suits your lifestyle.
The Oasis
For the ultimate garden escape, choose plants that create the look of abundance with generous sub-tropical appeal. Subtropical plants are the perfect complement for this outside retreat and will grow well in micro-climates within the garden that are sheltered from strong wind. Ensure there are dedicated dining spaces for summer shade and winter sun to make the garden inviting. Keep exposed hard surfaces to a minimum and consider glamorising a featureless space with a garden mirror. "Mirrors can give the illusion of another light-filled garden space that is the reflection of the foreground planting," says Peter.
The Family Space
Create a magical space that inspires and intrigues the younger members of your family. "Young children are more often interested in gardens that feature pathways leading to enclosures such as cubby houses and play tents where they can find shelter from the sun," he says. Alfresco dining is a great feature to enhance family entertainment, too. "Integrate it with the house floorplan and you'll have easy flow through from the kitchen to the outdoor eating area," says Peter, adding "include a barbecue area and adjacent shelter".
The Entertainer's Hub
Shade is one of the most important features to consider when designing your outdoor entertaining space. "Consider postless and retractable shower-resistant awnings, or PVC tension structure shade sails, to ensure effective shade over the majority of the year," suggests Peter. Lighting also plays a large role in this theme. "LED lights are the modern, low-power way to illuminate every kind of entertaining hub," says Peter. "Light-emitting diodes with warm white filters cast directional soft mood lighting across paths." Also consider a tree uplight fixed to garden spikes that can be moved to suit as the tree grows.
Summer standouts In frost-free, coastal, eastern Australia, plants from the ginger group such as Heliconia and Spiral Gingers, as well as Aroids such as the Elephant's Ear, bring lush high summer features. Further south towards Melbourne, summer favourites in less humid areas include the Mexican Lily, Tall Cane Begonias and Snake Plant.
Winter wonders Flowering small trees such as the Michellia Maudiae offer dreamy white flowers in late winter, as well as scented aromas in frost areas with reliable rain. For those gardens that don't get much rain during winter, try Aloe Barberae or Aloe Ferox for fierce winter candelabra crowns.
For more information, visit www.peternixon.com.au