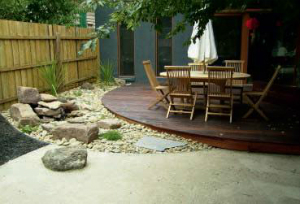 Create your own garden landscaping with strong and flexible steel garden edging
When it comes to garden edging, you need a product that is strong and weather resistant, and you can't get anything that fits the bill better than steel. Greenlines Gardenware's metal garden edging, called FormBoss™, has a patented rolled-over top lip and is a low-maintenance solution that lets you be the boss of your own garden design.
Manufactured in Australia from steel, which is stronger than aluminium and other edging materials, FormBoss™ is available in three different finishes: galvanised, Cor-ten or stainless steel. The rolled edges not only make this a safe product (stake connectors are hidden); they make it easy to mow, too.
FormBoss™ has a clean, simple design and is a breeze to install — no special tools are required. It comes in a range of heights, from 75mm to 580mm, which caters for all edging and retaining applications in your garden, and in lengths of 2.44m. This makes it easy to bring to life beautiful garden shapes and designs with uninterrupted clean lines.
FormBoss™ is rigorously factory tested for ultimate strength, durability and shaping ability. If you change your mind or alter your landscape design, FormBoss™ can easily be uninstalled, re-shaped and re-installed as needed. FormBoss™ easily withstands the rough activities associated with garden maintenance and day-to-day living. It has many applications in your garden and it is particularly good for preventing the new, hardier turf types and their roots from invading your garden beds.
With FormBoss™ you can edge garden paths and flower gardens, create raised vegetable beds or install a neat edging finish to your driveway. You can also use it for bitumen edging, defining dry creek beds, edging rooftop gardens, low retaining wall edging, water tank retaining walls or concrete formwork. Or why not get creative and create a beautiful outdoor edged area by dividing different surface materials, such as gravel or pebbles, to create a formal design or a modern geometric pattern?
The professional staff members at Greenlines Gardenware believe the most important thing is that you end up with an edging solution that suits your specific individual landscaping needs. To help you achieve this, they provide excellent customer service and access to a seven-day customer support hotline.