We brought you 8 shocking bathroom facts — now John Spiteri of Brindabella Bathrooms tells you how to solve those icky problems!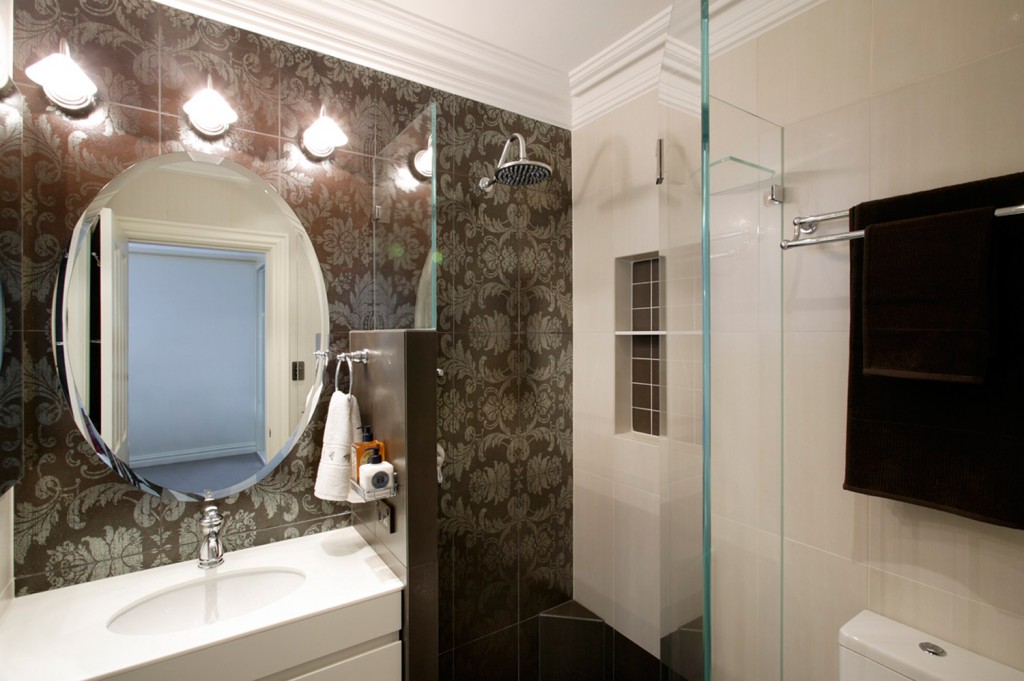 1. PVC curtains:
According to new findings, PVC or vinyl shower curtains may give off toxic fumes, causing asthma and headaches.
SOLUTION: Use a frameless or semi-frameless glass shower screen instead. Glass is much more durable, and so much easier to clean than a plastic "curtain". It enhances the look of your bathroom and allows light to flow, making the space appear larger. Glass is also much safer for children using the bathroom.
2. Showerheads:
Showerheads accumulate biofilms if not cleaned regularly, covering you in bacteria every time you shower.
SOLUTION: You'll never be able to avoid build up on your showerhead but a simple dousing in warmed white vinegar (either remove the showerhead and submerge in vinegar or wrap a vinegar-filled bag around the showerhead overnight) will do the trick. Some manufacturers have released "self cleaning" showerheads but there are not that many around as yet so it's best to speak to your designer to find out if there is a product in your budget that would suit your needs.
3. Taps:
Burns and scalds are a major cause of serious injury in children from newborn to 14 years old. Most hot tap water scalds occur in the bathroom.
SOLUTION: Check out your tap options and discuss these with your designer. There is a range of sensor taps which use colour to indicate heat (red when hot, blue when cold) plus there are smart taps which allow you to set the flow and temperature to ensure the water never gets too hot.
The NSW Code of Practice, Plumbing and Drainage specifies that every new hot water installation to sanitary fixtures used mainly for personal hygiene purposes (ie. bathrooms and ensuites) must deliver hot water at a temperature not exceeding 50-degrees Celcius. Ensure your builder, plumber or designer adheres to the code.
4. Handrails
Getting in and out of the tub without grips or railings can cause injuries; 80% of bathroom injuries are due to falls.
SOLUTION: Grab rails (sometimes also called handrails) should be an integral part of your bathroom design. Speak to your designer about what to include and where, as this should be customised for your circumstances. Some clever manufacturers have designed these to be part of the shower fitting (for example, a shower rail) so as not to offend clients who may not yet have accepted the need for such safety features.
5. Towels
Bath towels harbour dead skin cells, broken hair and body oils, which bacteria thrive on.
SOLUTION: The rotation of dirty towels for clean towels should be a part of your weekly routine. One idea to discuss with your designer is the incorporation of a laundry shute or similar receptacle which can help make the process quick and easy.
6. Sinks
Because they are constantly damp, sinks actually carry more bacteria than toilets.
SOLUTION: Minimise areas in which bacteria can grow by considering an undermounted sink which is attached to the underside of the vanity top and doesn't have a "lip" around which water can pool and remain damp. Alternatively, a moulded sink – which is incorporated as part of the vanity top – has no joins in which bacteria can gather. Always choose a high-quality ceramic sink as these have more water-repelling properties than a PVC product.
7. Toilet
Your toilet splashes bacteria up to 20 feet away every time you flush with the lid up.
SOLUTION: An automatic-close toilet lid will keep those pesky bacteria contained within the bowl. Versions are available which are touchless and some also come with soft-close options.
8. Corners
Humidity and poor ventilation cause mold to grow in corners, leading to health problems like allergies and asthma.
SOLUTION: Careful planning and design of the bathroom will maximise ventilation and allow for air-flow to reduce humidity. Choice of materials and particular attention paid to how corners are joined will go a long way to minimising the build-up of mould in your bathroom.
Australian Building Standards require 20 per cent of the floor area to be of light-emitting product (for example, glass) and 10 per cent of the floor area to be able to open to outside (for example, a window or skylight). Mechanical devices such as an exhaust fan, together with a well-designed heating solution, will reduce mould. Where possible, I always recommend underfloor heating.
Solutions provided by John Spiteri, Certified Bathroom Designer (Aus), from Brindabella Bathrooms. brindabellabathrooms.com.au