The atmosphere of the bathroom, created through the use of various tiles with different tones and textures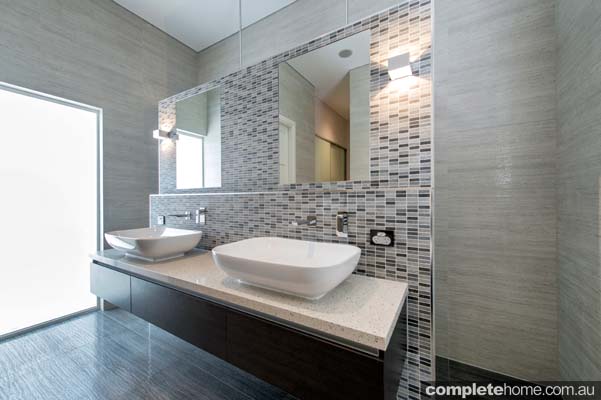 "Being an 1890 historic homestead, it was important that the new sections of the residence formed into the original with a seamless transition. The general theme was 'old meets new', with hints of modern.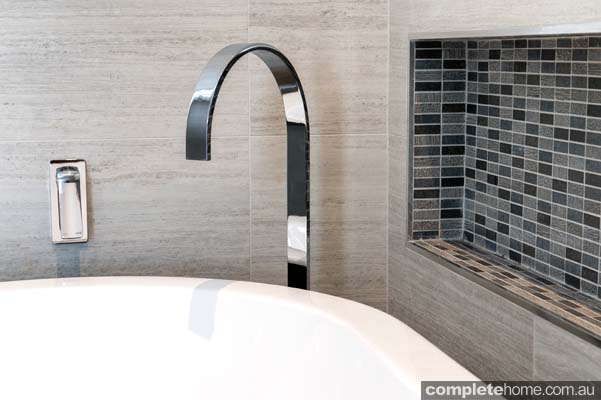 Capturing the overwhelming height of the 11ft (approximately 3.3m) soaring ceilings was imperative. Hotel-style appointments and design were also requested — a look that was achieved with the help of Reece for the bath, basin, shower and tap fixtures. The sheer size of the wall tiles, and laying them the full height, was challenging as mechanical fixing measures were used. This meant the tile adhesive was not totally reliant on the render to hold.
Most of the home's original historical values have been either maintained or replicated from new. The design allows for open-plan living with well-oriented windows to provide an open and airy feeling. You could almost describe this residence as an ultra-modern 1890s homestead."
Designer: Dino Colica for Zazen Building & Design, with Reece
SHOP THE LOOK
Basin Axa 700 counter basin
Basin mixer Milli Glance wall basin spout 180 chrome-plated
Bath Kado Lure freestanding oval bath black/white 1760
Bath spout Kubus floor-mounted bath outlet in chrome
Showerhead Nikles Techno 300 LED showerhead chrome-plated
Hand shower Posh Solus MkII 5 Function hand shower wall bracket chrome-plated
Shower arm Sussex Pol Vertical 500mm chrome
Shower/basin mixer Milli Glance shower mixer chrome
Towel rail Milli Cube heated towel rail in stainless steel
SHOP THEIR SHOWROOM
reece.com.au
Visit reece.com.au/storefinder to find your nearest showroom
1800 032 566
Originally from Kitchens & Bathrooms Quarterly magazine, Volume 22 Issue 1